WHETHER The Wiggles' decision to bring back original Yellow Wiggle Greg Page to replace frontman of five years Sam Moran is right or not is not for me to judge. However, the way the ending of Sam's contract and reintroduction of Greg has been dealt with raises a lot of questions from a public relations perspective.
Take a look at this video and you'll see what I mean.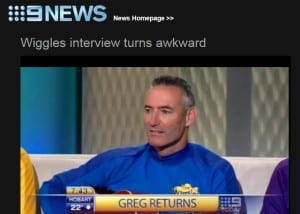 Many have been left scratching their heads, wondering how a business with two decades of experience and in Australia's BRW Rich List can come across so amateur. It has to be one of the most awkward interviews on the show in a while. And it wasn't just on this network.
Here are five PR lessons to learn for your business by watching this week's Wiggles episode unfold.
Monitor social media
One sure way to find out what the market is thinking about your brand and reacting to your news is to delve into social media – Facebook, Twitter, blogs and YouTube for starters. A quick look would have found mums – the ones who control the remote – were not happy with the decision.
Be prepared
The evident lack of preparation in going into interviews by The Wiggles was not a good look for the brand. Why they were not prepared for the questions asked baffles me. Answers to such obvious questions should have been well prepared. It begs the question of whether they thought replacing Sam would even matter to its fans.  The Wiggles have long been the darlings of the media. However, journalists are after a newsworthy story. Just because they've been chummy with you for 20-odd years, doesn't mean they won't pull out the tough questions when needed.
Focus on your customers, not your bottom line
To be fair, Jeff at least credited the impact on fans in this interview. However, there needed to have been a stronger focus on how the decision would benefit its audience. It's important your message is directed at your audience. What do they care about? It sure ain't how much money you make or your chemistry on stage.
Make sure you speak directly to your audience
This is where The Wiggles failed, but Sam came out on top. His website today features a rather classy video from him speaking directly to his audience – the kids – to ease their concerns about him leaving the group.
Act quickly
In this age of social media, rumours can spread quicker than they ever have before. One tweet can reach beyond what word of mouth ever did. The key is to get out into your market and start responding to and spreading good news about your brand as soon as you can.
How do you think The Wiggles handled the situation? How would your business deal with this situation?