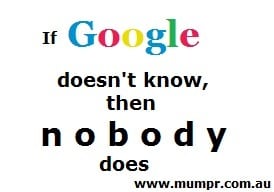 DO YOU have a business blog? If not, my question is why? Time? Lack of blogging knowledge? Can't see the benefits? You're planning to?
The latest Australian Women and Social Media Survey 2011 revealed 47% of Australia businesswomen online write a business blog. This is a promising result, proving we're becoming savvy marketers.
Of those who don't, 46% feel they didn't need one. The concern is this group is giving their competitors a greater edge via search engine optimisation. Search engine what? Well, when I search Google or Yahoo for a wooden toy for my daughter's birthday, will I find your business first - or at all?
Here is why I believe you should have a blog:
It's the best way to get onto Google's front page. By having fresh content on your blog each day or week (however regularly you wish to write it), you're helping Google recognise that you exist. A static website is less favoured by Google.
People are more likely to share interesting content you create on your blog. This not only helps you, again, rank higher in Google thanks to linking to sites like Facebook, Twitter, StumbleUpon and more, but also sends your message to an audience that may not have otherwise discovered it.
The content you create enables you to show you are an expert in your field.
It humanises your business. People do business with people. We're more inclined to buy from someone we feel we know – especially online – than one we don't. It's about building trust.
It helps with your PR efforts. If a journalist needs an organising expert to speak to for their story, they're likely to Google ``Australian organising expert''. Would you come up in Google for your niche or does your competition rank higher?
If another recession hits and buyers become more frugal, you'll already have a relationship – and have built trust – with your customers. This means they're more likely to want to do business with you.
Do you have a business blog? Why? Why not?
Want to learn more? Sign up for our free ecourse, Get Your Business or Blog the Media Attention It Deserves, and learn how to write your own media pitch and press release. We even help you with pitch ideas. It's completely free, so sign up and get your first lesson immediately.
The survey, conducted by myself and Louisa Claire of Brand Meets Blog, polled more than 700 Australian women during December.