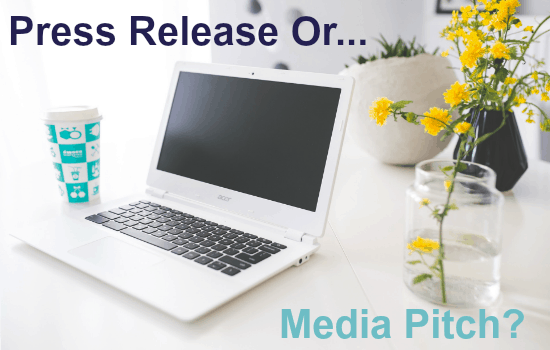 Many people often ask what's the difference between a press release and a media pitch or pitch letter. It's then followed up by which one is best to use when pitching your business to the media. Both work effectively, but there's certainly a reason to use one over the other.
The press release
A press release is a full article that allows you to tell your story in greater depth. It needs to be compelling though or they'll simply click "delete''. And we want to avoid that.
A press release follows a certain style. It reads like a news article, so is objective and uses quotes to add colour. If it's written correctly, a journalist should be able to run it as is. Well, that's the aim. Alternatively, it should give the journalist enough information to compile their own story, with facts and "quotable" quotes.
The press release is ideal if you're launching a new business, a new product, hosting an event, releasing survey results or data or anything else that requires more detail to entice them to want to run your story. It can also come with some SEO benefits.
Ideally, it should take this format
FOR IMMEDIATE RELEASE
January 24, 2012
Attention grabbing headline
MELBOURNE, VIC January 24, 2012 – Introduction, which should include the who, what, where, when, why and/or how of the story…..
The following paragraphs should expand on the introduction. Treat the press release as an inverted pyramid, with the most important information at the top and the less interesting facts down lower.
In italics, it's a good idea to include what's called a boilerplate. This involves a couple of sentences about you and your business, project or product to give the media some background information.
# ENDS #
For more information or to arrange an interview contact:
Include all your contact details. Your name, business name, mobile number, work number, email, Facebook and Twitter.
Testimonial: This is optional, but can often provide the journalist with that little extra information they need.
You can see plenty of examples of different styles of press releases in the Mum PR Media Room you can use as a template.
The media pitch
Here's a bit of inside knowledge – you don't actually need a press release to gain media coverage. A media pitch will work just as well. It's simply a letter to a journalist, editor or blogger. Similar to the press release, you need to provide the who, what, where, when, why and/or how in a compelling way. However, you don't need to go into further detail. The information you provide just needs to tease them enough to want to take the next step and contact you to find out more. Where the press release is written in a formal, journalistic style, the media pitch is more conversational and can be used in a letter or email.
If you're not comfortable writing press releases or can't afford to pay a professional to do it for you, this can be a great option. It also comes in handy if you need to respond to a topical subject in the news quickly.
Ideally, it should take this format:
Headline – this is generally used in the subject line of your email to entice the reporter or blogger to want to open it. So make it interesting.
Hi (insert name. Do not use the words "editor, journalist or blogger, please. Find out their name)
A line letting them know you have a story that would be of interest to their readership.
A couple of lines about your story angle, including the who, what, where, when, why and/or how.
Include a call to action. Do you want to be interviewed? Do you want to send a sample of the product for them to review? Are you offering a giveaway? Do you want them to attend your event? Let them know exactly what you're after. Don't be shy.
End with your contact details. Provide a few options to make it easier for the journalist or blogger to reach you.
And that's it.

Still struggling to write a press release that actually gets journalists' attention? The Complete Press Release Kit shows business owners how to write an effective press release – even if you're not a good writer! It provides a full guide to writing a press release, PLUS templates you can use for various press angles.