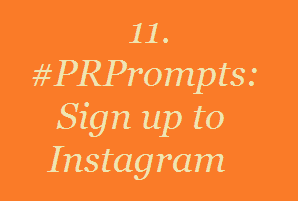 There are a myriad of reasons to use Instagram, including the point made back in #PRPrompts 1 - we are visual creatures. Because Instagram is ``instant'' and there is no chance for prescheduling, it allows people to see inside your life - or your brand - as it happens.
Take photos of everything from a behind the scenes look at your business, new products used in an organic way, to hashtagging a conference or launch event and showing participants' Instagram photos on a big screen. The possibilities are endless.
What examples have you seen of businesses using Instagram well?
This mini post is part of a daily microblogging series, #PRPrompts. For more tips, make sure to subscribe to the blog for your daily dose or get your hands on a copy of the monthly Mum PR eNews.