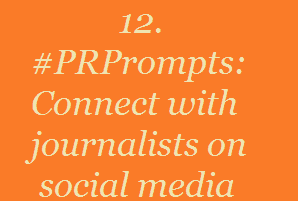 One of the beauties of social media is that it's now easier to connect with the media and build relationships. Where once you relied on email, phone or fax and hoped for a response, journalists have become more responsive when connecting with them via Twitter. It's a good idea to create a media list in your Twitter account for easier tracking of tweets.
Some journalists, especially freelance journalists, will also have a Facebook page (do not try and contact them via their personal Facebook profile). With the new page messaging option, it's another avenue to connect with the right people. And let's not discount LinkedIn.
It's a good idea to first start interacting with their content, sharing it and taking part in general banter before pitching your idea. Remember, public relations is all about building relationships.
Have you used social media to connect with journalists?
This mini post is part of a daily microblogging series, #PRPrompts. For more tips, make sure to subscribe to our fortnightly newsletter below.