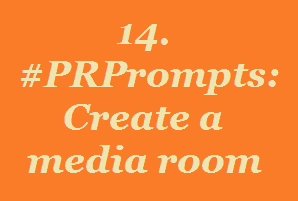 If you've been gaining space on blogs, in magazines, newspapers, appearances on radio, television and more, consider creating a ``media room or press page'' on your website. This does a few things:
it gives customers an idea of what you're doing in the media, provides confidence in what you do and gives you credibility;
if the media can see you're already gaining coverage, they will have more confidence in using you as talent for their story;
it's important as a business to celebrate successes. Heck, it's good for all of us to celebrate our successes.
You'll notice the Mum PR Media Room is a whole subdomain with various pages. This allows us to create an entire``newsroom'', with press releases and news from our clients, resources for the media and actual press appearances. There are great examples out there of corporate ``press centres''. If anything, they are one of the best ways to get your news out there to the people that matter - your clients and customers.
Do you have a media room or press page?