A couple of weeks ago I was approached by the Tasmanian ALP Senate team to host Mum Blogging MasterClass – and I jumped at the chance. The masterclass will be a forum-style event aimed at mums to be held Monday at the University of Tasmania Cradle Coast Campus in Burnie. For those who can't make it (you know, it's not like we can all just hop on our private jets when we feel like it!), we will also be live blogging from the event via my Three Li'l Princesses blog and tweeting via the hashtag #mumblog.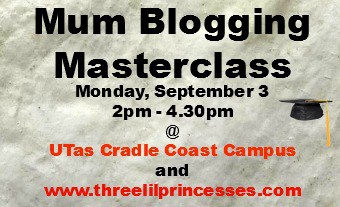 The first part of the event is about blogging and social media and how to use it as a catalyst for social inclusion. While the masterclass is titled "mum blogging'', the reality is there will be lessons for businesses as well. For those new to blogging and social media, it will provide you with tools to build a blog and build a community around it. You can read more about the event on Three Li'l Princesses.
I'll also provide some lessons over the coming week or two on the PR around the event. Just as a quick overview though:
We were featured in The Advocate Newspaper yesterday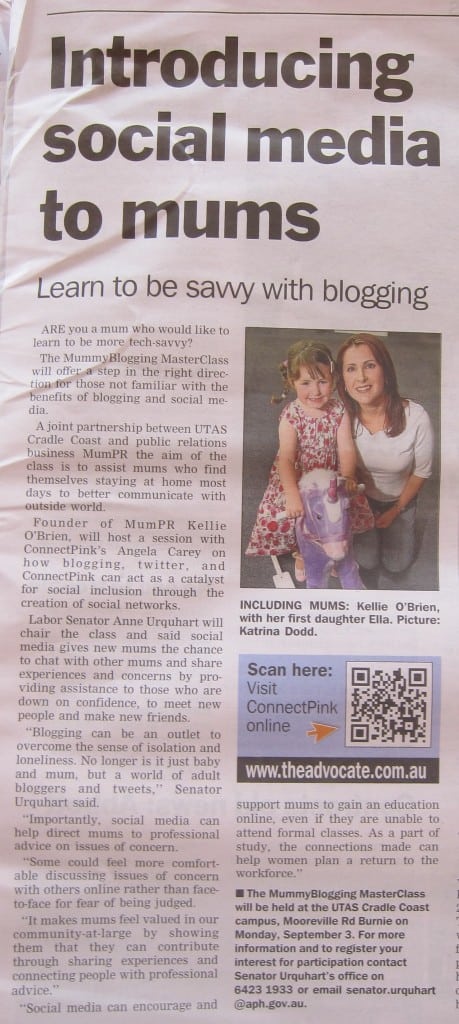 And today at 9.20am I'll be speaking about the event on 7AD/7BU commercial radio.
Along with that, ConnectPink Editor Angela Carey is my co-host for the blogging and social media session and is promoting the event through her platform.
Then there's the Three Li'l Princesses' live blog of the event on the day, the #mumblog Twitter hashtag and Facebook event listing.
Of course, for me this event is not about the publicity. It's about a bunch of mums showing fellow mums a way out of the isolation and loneliness they feel at home and enabling them to connect with the outside world. We have all been there. We remember what it was like being stuck at home with a newborn and feeling like you had no support. But it doesn't have to be that way.
Would you like to start your own business or personal blog? Or do you already have a blog? Feel free to leave links to your blog below.
If you'd like to learn more about blogging and social media, make sure to subscribe to the blog.