One of my favourite social media platforms is Pinterest. I don't spend nearly as much time on it as I'd like, but it appeals to my creative side. In the past few months I've also started to see results from it.
A frustration, however, has been no analytics – other than third-party paid services Pinfluencer and Curalate (which also incorporates Instagram). Oh, and of course click-throughs documented by Google Analytics. However, it doesn't tell you who has pinned your content from your site, what's most popular and how many impressions it's had.
This week that all changed when Pinterest introduced Pinterest Web Analytics. Having played around with it a little since it's launch yesterday, my initial response is positive. It's easy to navigate and understand. However, it is basic especially for those who have been using paid services.
It does pose the question of where this is going from a monetisation aspect, particularly with Pinterest business pages recently announced.
How to view your Pinterest Web Analytics
There are two steps you'll need to do before you'll be given access to your analytics. Firstly, add your website to your account and then verify your website address. There's a tutorial here for verifying your website.

Then switch to Pinterest's new look.

Now, onto the analytics….
To access your Analytics, go to the top right menu and click "Analytics''.


You can gain site metrics from how many people are pinning your content through to number of clicks.

Your most recent pinned content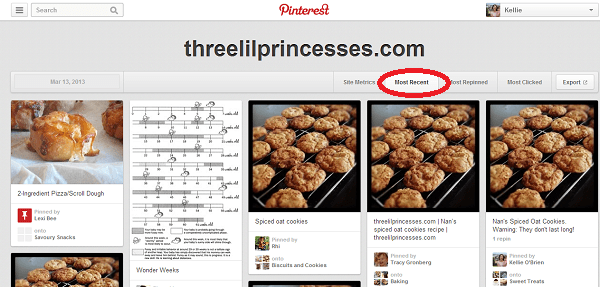 Along with most pinned and most clicked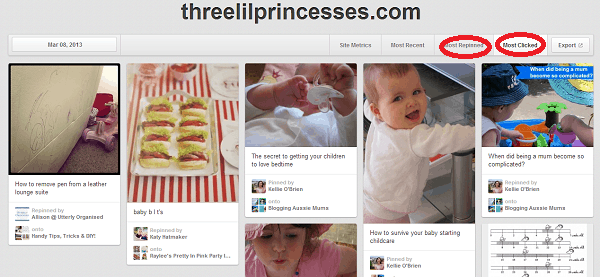 At its most basic form, it's able to reveal which content resonates with people – either due to the content (click throughs) or the image (repins).
Pinterest is not to be ignored. It has 48.7 million users according to Reuters and, for some, is driving more traffic than Facebook.
Have you delved into Pinterest Web Analytics? What have you discovered?