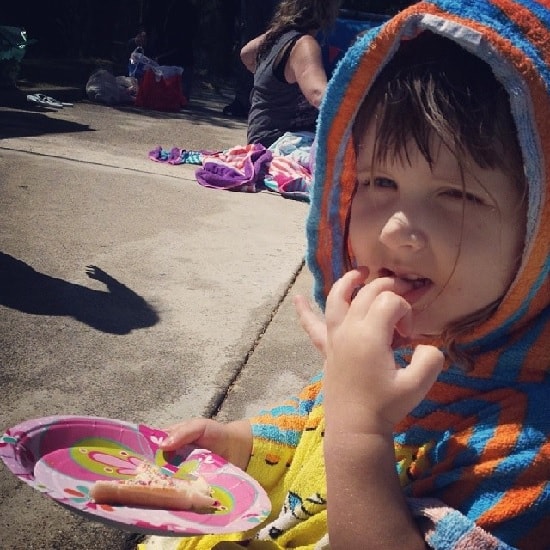 There are plenty of wins – and things to be grateful for – in this week's Aussie Giveaway Linkup:
The weekend proved you win some, you lose some. Sunday was just a day I'd rather not repeat. The girls were "challenging'' for most of the day. Compare that to Saturday, where we had swimming lessons, followed by a pool party, barbecue dinner on the new Weber and finally a family movie night – and they were absolute angels. Oh, and apparently I have black hair and Julian has silver. Nice!
The final module for Publicity Alchemy went really well. Feedback has also started to come in from the participants, which just leaves me beaming. Like this one: "Module 4 was absolutely wonderful. It's by far the best explanation I've ever heard of sound bites. Thank you so very much, Kellie O'Brien''.
Speaking of publicity, I'm hosting The Simple Strategy To Land Your Business Media Attention in 30 Days free training on Thursday at 10am AEDT. If you're interested in increasing the visibility of your business or blog, be sure to sign up. The last time I hosted this, it was incredibly popular. Or you can just come along to see how many times I can squeeze in the word "um''!
OK, onto the linky now…
Aussie Giveaway Linkup instructions:
If you're a blogger or business wanting to take part in the Aussie Giveaway Linkup:
Only link directly to the giveaway post/s and include the prize and end date in the linky tool below. Link each giveaway separately. If you need to delete it, hover over your link, wait until the red "x'' appears and click.
Giveaways must be open to Australian residents and be run by Australian-based bloggers or businesses.
Grab the NEW button below to add to your post.
A new list is added each Monday so bloggers and business owners need to add their links weekly.
Start entering the giveaways! Entry is at your own risk. We do not take responsibility for unfulfilled prizes or a blogger/business not abiding by their own terms and conditions.