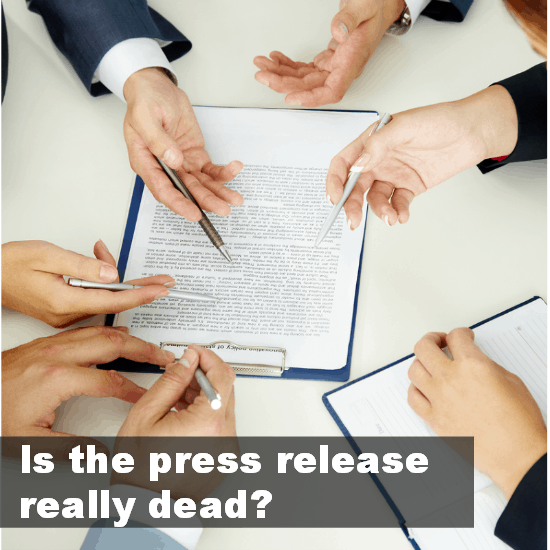 You've probably heard me mention it before, but you really don't need to write a press release to pitch the media. In fact, often you'll turn a journalist and blogger off if you start pitching a press release.
The reason is that journalists wants exclusives. They want to cover hot news that no one else has covered yet. If you pitch them a press release, it's a sure-fire sign to them that everyone else has a copy too. This is OK if you're Apple. Not so good if you're a one-woman entrepreneur.
However, if you send a tailored pitch specific to them and their audience, then your chances of securing press increases.
So, is the press release dead?
Well, no, actually. It's not.
There's still a reason for writing press releases, just not for the reasons you think.
Here are four reasons you should be writing press releases:
1. Your media page or media room
A media page or media room allows you to show what your business has been up to, creating confidence in your brand for potential customers wanting to buy and journalists looking for talent via search.
If you don't have a media room or a media page as yet, then you need to start working on one. It doesn't have to be elaborate. Just a page on your website that allows you to upload your press releases, showcase any media you already have and allow media to find low and hi res images of you and your products they can easily download.
2. Search engine exposure
Press releases on PR distribution services often rank quite well in Google. Although, bear in mind, they do have a short life span. However, if it means the right person finding your product or business at the right time or a journalist discovering you, it's well worth it.
Just think about your customers' habits. What do they do when they have a problem they need solving? They Google for an answer. If you're struggling to get your blog or website to rank well, then a PR distribution service can help you rank better for your topic – in the short term, anyway.
3. For journalists
OK, so didn't I just say you don't need to use press releases to pitch the media? Yes, yes, I did. And here I am completely contradicting myself.
No, really, I encourage you NOT to send the press release in the email pitch, unless you have a topic that requires more detailed information that can't be summarised in a simple email. In this case, embed the press release into the body of the email (don't attached it, as many journalist won't open attachments due to the potential for viruses from people they don't know).
The real reason you'll want to write a press release for a journalist is if, after pitching via email or phone, the journalist asks you to send through more information. So the key here is to make sure that press release is written before pitching.
If they never ask for it, you can still use it on PR distribution services and your media page. So all is not lost. You'll also find it's good for under-resourced newsrooms that would prefer to take copy directly from a press release.
4. Niche-specific traffic
For the vast majority of you reading this post, you want more customers and clients. Right? The great thing about uploading your press release to PR distribution services and your media room is that Google and the PR wire distribution services will send you niche-specific traffic – ie your ideal client. Bypass journalists and go straight to your customers.
The other bonus is, if journalists and bloggers in your niche find your release, they too could end up sending you traffic that is filled with your ideal client – without you even pitching.
Consider also tapping into other niches through different press release angles. Imagine you have a book about how to get your social media done that's aimed at small business owners. However, you know that your readers range from small business operators through to marketing departments within corporate organisations. The key here is to write two different press releases, with angles tailored to that particular target group.
As you can see, the press release isn't dead. It's just rarely being used by small business and entrepreneurs for direct pitching now.
So how on earth do you write a press release then?
In the next post I'll details my 7-step formula for writing press releases.
In the meantime, sign up to get notified of when we release  The Complete Press Release Template Kit. It features a handbook on how you can easily and effortlessly write your own press releases, along with a suite of templates for every press release you could imagine. This will take away hours of writing or sheer procrastination (yes, I know you sit there wishing for the words to magically appear on the screen). Sign up to be on the early bird list.