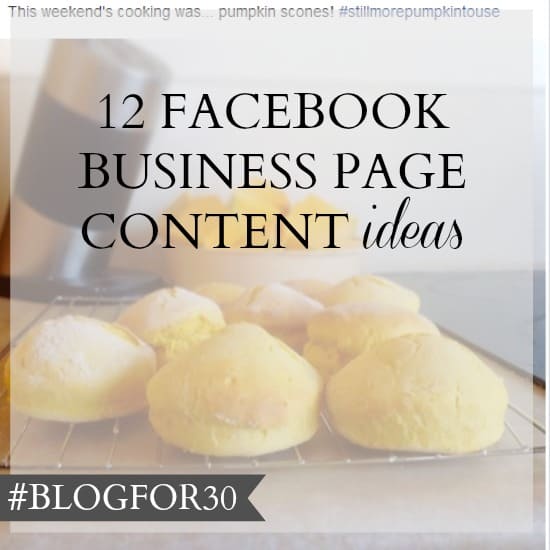 When it comes to doing Facebook pages for business, there are a myriad of ideas you can use to help entertain, educate or inspire your followers. Here are 12 Facebook business page content ideas to use (viewed best in full screen as it goes slightly out of whack as the current size – and I've been playing around with the fonts and pix waaaaay too long!):
12 facebook business page content ideas 2012 from KellieOBrien
Ask questions
A great way to get people interacting is to ask them questions. Often this can inspire you to think differently about how you conduct your business.
Share photos and videos
As long as it relates to your business, this can be a great way to engage people. We are visual creatures. Research into Facebook posts show photos are the most shared content on the social media platform. Video is not too far behind.
Share milestones or achievements
This is such a feel-good style posts it's hard not to want to click "like''.
Ask for advice
Rather than sitting at your desk wondering what your clients and customers want, why not ask their advice. As a wise man once said to me: none of us are as smart as all of us.
Advertise job openings
If you're looking for someone to fill a new position, there's no better place to look for them than among your fans. It's also a great way to spread your message.
Provide a behind-the-scenes look at your business
Another feel-good post, this can humanise your business. It helps build trust with customers and makes you more approachable.
Recognise clients
A nice way to show who you're aligned with. For those thinking of buying from you or working with you, it's nice for them to see what you've done before.
Other ideas include:
Promote events
Share news in your niche
Promote products
Take up Facebook's new Offers feature
Conduct Polls
If you'd love to learn more about increasing your reach and revenue on Facebook, learn more about my social media coaching package.
Click the image below to learn how to get 20 clickable Facebook post ideas – plus THREE more working extra well RIGHT NOW!