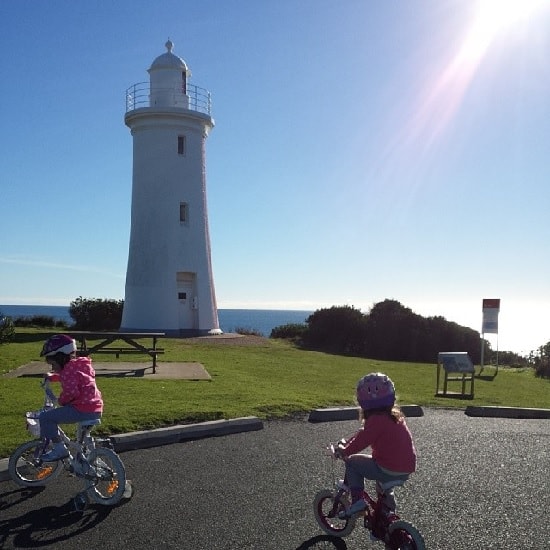 Things are cycling along here (sorry, I just HAD to find a way to use this cute pic of my girls at the Devonport Lighthouse yesterday), with a host of opportunities landing on my doorstep all at once. Always the way, right?
I'm not complaining at all though. I love that over the next two months things will be stepping up a notch.
I'm giving credit to a few things:
Word of mouth marketing has become incredibly powerful for me. Of course, traditional and digital marketing is where it all started, but it's all led to what I think is the holy grail – word of mouth.
Having a public relations plan to follow (and now having journalists chasing me for quotes) has been incredibly effective in helping position me as an expert and build trust through that third-party endorsement (well, I hope!).
As much as I love traditional marketing, I just adore digital marketing. Our strategy around social media, blogging and email marketing – including starting the Media Mastermind Facebook group – have really had a huge impact on the KOM brand.
Webinars. Other than the telesummit I did last week, I haven't done a webinar in a few weeks. But I think video is really where my focus is going to be for the latter part of 2014. I bought a video creation course last year and have still only delved into half of it. So expect to see my face more. Who wouldn't get excited about that!!
PS. We're not far from launching The Complete Press Release Template Kit. Don't forget to sign up for the early bird list….
Now, onto the linky…
Aussie Giveaway Linkup instructions:
If you're a blogger or business wanting to take part in the Aussie Giveaway Linkup:

1. Only link directly to the giveaway post/s and include the prize and end date in the linky tool below. Link each giveaway separately. If you need to delete it, hover over your link, wait until the red ``x'' appears and click.
2. Giveaways must be open to Australian residents and be run by Australian-based bloggers or businesses.
3. Grab the NEW button below to add to your post.
4. A new list is added each Monday so bloggers and business owners need to add their links weekly.
5. Start entering the giveaways! Entry is at your own risk. We do not take responsibility for unfulfilled prizes or a blogger/business not abiding by their own terms and conditions.

Hosted by Kellie O'Brien Media