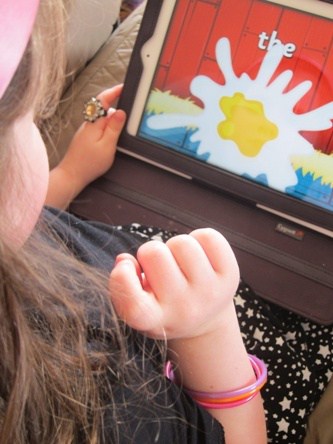 My social media world appears to have touched my two girls.
They're super keen for us to take them to DisneyLand, which I've promised will happen – in three years' time when they're a little older...and taller.  To help them ``survive'' until then, we've downloaded the DisneyLand iPad app. Much cheaper than going to DisneyLand, I might add.
They were playing it together on Sunday morning and oohing and aahing at all the things they'll be able to do and see in DisneyLand.
I noticed they were clicking the ``Favourites'' button when they discovered something they loved. I then heard six-year-old Ella say to three-year-old Holly: ``Don't worry about having to remember that one, Holly. I've pinned it.''
Ah, OK then!
PS. Speaking of Pinterest, if you haven't been able to keep up with all the Blogfor30 posts I've been sharing, make sure to check them all out on my Blogfor30 Pinterest board.
Now, onto the linky…
Aussie Giveaway Linkup instructions:
If you're a blogger or business wanting to take part in the Aussie Giveaway Linkup:

1. Only link directly to the giveaway post/s and include the prize and end date in the linky tool below. Link each giveaway separately. If you need to delete it, hover over your link, wait until the red ``x'' appears and click.
2. Giveaways must be open to Australian residents and be run by Australian-based bloggers or businesses.
3. Grab the NEW button below to add to your post.
4. A new list is added each Monday so bloggers and business owners need to add their links weekly.
5. Start entering the giveaways! Entry is at your own risk. We do not take responsibility for unfulfilled prizes or a blogger/business not abiding by their own terms and conditions.

Hosted by Kellie O'Brien Media