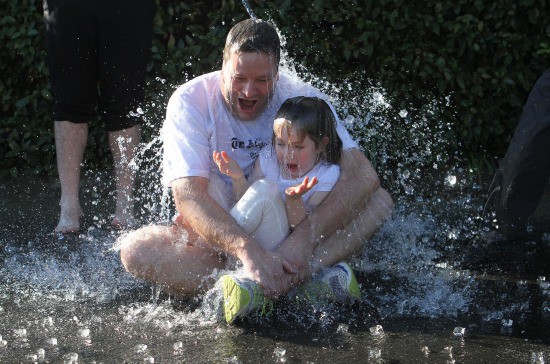 Photo credit: Katrina Docking @ The Advocate Newspaper
Julian's boss nominated him for the Ice Bucket Challenge. If you haven't heard about it yet, then you obviously don't have a Facebook account. It's hard to miss at the moment.
Ella (6), little realising what it involved, excited volunteered to join Julian. As you'll see from the video, she was rather quiet once the ice hit her head. The unedited version of the video (not shown here) shows her quiet for a good 15 seconds before laughing. I don't think she expected it to be QUITE that cold.
I know the challenge has its knockers for various reasons but, really, it's incredibly heartening to see the volume of awareness now around Motor Neurone Disease and the sheer amount of money raised.
The thing that's grabbed me more than watching endless funny videos of ice being tipped on people's heads is the stories of those whose lives have been touched by MND. That's what really makes me dive into my pocket and want to donate.
And now, for your viewing please, Julian and Ella doing the Ice Bucket Challenge.

Have you done the challenge and/or donated?
Now, let's dive into this week's Aussie Giveaway Linkup…
Aussie Giveaway Linkup instructions:
If you're a blogger or business wanting to take part in the Aussie Giveaway Linkup:
Only link directly to the giveaway post/s and include the prize and end date in the linky tool below. Link each giveaway separately. If you need to delete it, hover over your link, wait until the red ``x'' appears and click.
Giveaways must be open to Australian residents and be run by Australian-based bloggers or businesses.
Grab the NEW button below to add to your post.
A new list is added each Monday so bloggers and business owners need to add their links weekly.
Start entering the giveaways! Entry is at your own risk. We do not take responsibility for unfulfilled prizes or a blogger/business not abiding by their own terms and conditions.

Hosted by Kellie O'Brien Media