If you have arrived on this page, but haven't actually signed up to become an affiliate, make sure to head to this page first: Affiliate Program
How do you navigate the Referral Centre
Sign into the Referral Centre: https://hm140.infusionsoft.com/app/authentication/login and enter your username and password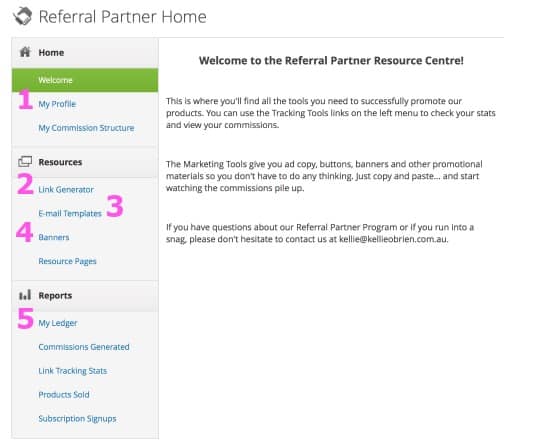 1. This is your profile, where you can update all your information
2. The Link Generator is where all your individual links are. If you're writing a blog post or putting out a social media status, you can use the link that's relevant to the product you're promoting. See the image below for what it should look like. Just copy the "My Tracking Link" and it will send people to the URL under the "Website" column. But note: these are my test affiliate links, so make sure you to use your own links or you won't get paid! Plus, two of these products are yet to have sales pages created.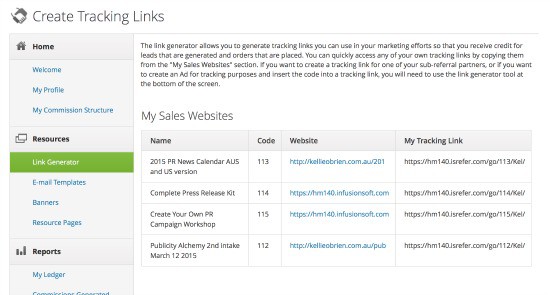 3. This contains email templates you can literally copy and paste into your email marketing system with your affiliate codes. Feel free to change it to suit you. At this stage, we only have an email sequence for Publicity Alchemy. But other programs will be added over time. There are also Facebook and Twitter statuses you can copy for Publicity Alchemy as well.
4. Similar to the above, this is where banners have been created for you for Publicity Alchemy. You can generate the banner and copy and paste the code into your sidebar widget or blog post.
5. My Ledger will give you a summary of the commissions you've earned.
NOTE: The Referral Centre isn't exactly easy to navigate, which is why I've created a special page with email swipe copy, social media statuses and banners you can copy over here. All you'll require is grabbing the correct link from the "Link Generator".
How to share social links
Here's a quick guide on how to share social links without using the Referral Centre. Of course, you'll need to grab the correct affiliate link from the Referral Centre first.
Let's use the code: https://hm140.isrefer.com/go/113/Kel/ (remember, you will need to get your correct link), which will help us promote the 2015 PR News Calendar. Go to bitly.com and, once you've set up an account or signed in, add the link in the area that says: "Paste a long URL here to shorten".

A window will pop up with a shortened code. You can go ahead and create your own customised URL if you don't like the gobbledygoop one they give you.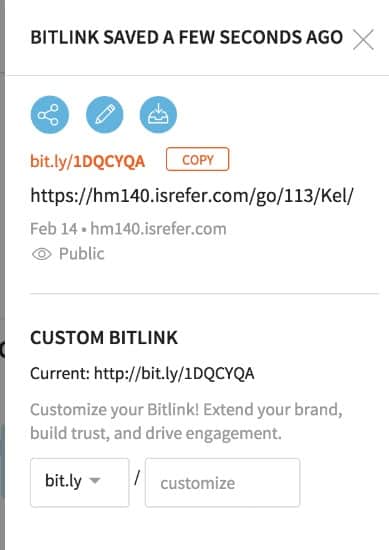 Then go forth to Facebook, Twitter or Google+ and create a status (you can find prewritten statuses here), add your new bitly link and click `share'. Bitly will also allow you to track how many people are clicking your affiliate link on which platforms.
Using your affiliate in blog posts and web pages
If you're inside WordPress, highlight the words you want to hyperlink, clickthe hyperlink "chain" tool and add your affiliate link.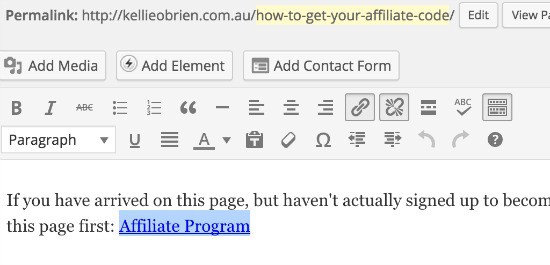 If you're on a page that doesn't allow for direct hyperlinking, you can do it using a little simple code in html. This is how it will look:
<a href="https://hm140.isrefer.com/go/113/Kel/">Grab your copy of Kellie O'Brien's 2015 PR News Calendar</a>
Simple! (Just remember to replace my affiliate code with your own!)
Using your affiliate in images
I've done all the work for you here.
You just need to head on over to this page and you'll find all the images there. All you need to do is copy the code at the bottom of that image. But remember, you do need to replace my affiliate link with YOUR link inside the code – and just ensure that link is for the correct product or program. Then paste the code into your website/blog sidebar or within a blog post. This image will then be clickable for anyone who visits the page.
Remember, if the Referral Centre is becoming a tad too confusing for you or you want content for the other programs outside of Publicity Alchemy, check out my Affiliate Centre.