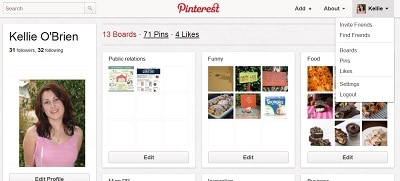 Today's talk about the legal issues surrounding Pinterest is a good reminder from a public relations and marketing point of view to not put all your eggs in one social media basket. If people take what this post is saying about the potential to be sued for sharing another's images seriously – and to be honest, they should – then it could spell the end of the digital photo board pinning platform.
I've seen many businesses pile all their hopes and dreams into Facebook with little plan for what they would do if Facebook should suddenly become non-existent. How would they be able to continue doing business without a website/blog, Twitter, Google+ or LinkedIn?
Sure, most bricks and mortar businesses would continue. However, if you're a store relying heavily on Facebook to drive traffic to your etsy or madeit store, you may see a significant impact. If you've been selling directly on Facebook, well, forget it. You may as well start your business from the ground up again.
I'm not advocating signing up to every social media platform either. You'll just end up with social media burn out. But having a few options is wise. For Mum PR, there's Facebook, Twitter, Google+ personal page, Google+ business page (not very active at the moment), LinkedIn personal profile, LinkedIn business profile (again, needs some work), YouTube and Pinterest (which looks like it's on the way to being deleted). Looking at that list, it's no wonder I don't sleep!
However, amid all these platforms, there's one extremely important avenue that has become my bit of "business insurance''. It's my subscriber list. A newsletter and/or email subscriber list will always be there, regardless of what happens in social media. You can always email your customers/clients/readers to alert them to the fact something within your business has changed. You can tell them your website is down, but they can still interact and get information from you via Facebook. Or that now Facebook is redundant (heaven help us if that ever does happen), they can find you on Google+.
I also have all this set up for my personal blog too. If your "business' is solely online, consider what might happen tomorrow if your main traffic driver should vanish.
What social media platforms do you use for your business? Do you have a plan in place if something should change?