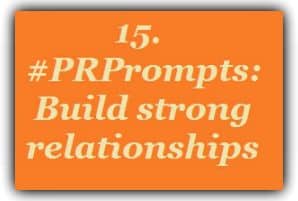 One of the greatest failings of businesses when doing traditional press, new media, social media and blogger outreach campaigns is the inability to create good relationships with influencers. That is, good relationships with journalists, bloggers and social media users.
You can have the best press release or product in the world, but if you don't have a relationship with the people that matter your chances of success are reduced. Quite simply, they don't know who you are and so there's no trust or credibility there.
Those relationships don't happen overnight either. They can take months to develop, which is why the best campaigns are held over three, six and 12 months. A one-off campaign rarely yields strong results.
You should be building those relationships and interacting well before the first pitch is made too.
So if you did a one-off press campaign, pitched a blogger once or ran a Twitter campaign for one week all without much buzz or response, take a look at what your relationship is with the people you want to connect with first. Then keep going - keep feeding them strong news, giving them good opportunities and running interesting social media campaigns.
Have you built up relationships with journalists, bloggers or online influencers?
This mini post is part of a regular microblogging series, #PRPrompts. For more tips, make sure to subscribe to the blog for your daily dose or get your hands on a copy of the monthly Mum PR eNews.