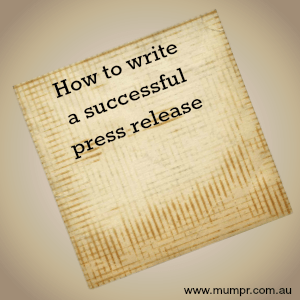 Many business owners I speak to put off writing a press release. It lies in their "too hard" basket and they never quite find the time or confidence to get it done. Meanwhile, they watch their competition gaining press and wonder why they're not.
In saying that, just firing off any old press release in the hope of a leading news story won't necessarily get you exposure. There are some key factors in gaining press. And I'll be honest, it can sometimes be a slow process – so be patient.
You need to build relationships with journalists or the key "gate keepers" in a media organisation, by feeding them good stories – not always necessarily that involve you – to earn trust and gain credibility. To prove you're a reliable source of news, put together a six-month campaign, putting out a press release or media pitch per month or every second month.
Over the past few months I've been tasked with writing quite a few press releases for businesses, which got me thinking about the thousands of releases I've read over the years as a journalist and how to write a good press release.
Grab their attention early
You need to grab a reporter/producer's attention within 3-5 seconds, so make your headline and intro (lead sentence) are strong. Write so they can't help but want to read more. It makes sense then that what you're selling is actually "news". This can include launching a unique product, solving a problem, a major event, taking part in a good cause, a controversy, evergreen news or your opinion on a hot news topic of the day. It's also imperative you include the five Ws – who, what, where, when and why (or how).
Don't use jargon or big words
An old Editor once told me to write like a seven year old could read it. Simple is best. The same applies to news releases. Jargon used in your industry can often confuse readers, turning them off the story. Stick to simple words that anyone can relate to.
Get rid of superlatives
They annoy journalists. Superlatives are adjectives, like "wonderful", "brilliant", "best" – even "groundbreaking" can annoy journalists. Mainly because most things described as "groundbreaking" aren't actually groundbreaking at all. They're opinion-based words (usually biased too!). When you're writing your press release, stick to the facts and strip out any superlatives you see.
Make it relevant to the media's target audience
What newspapers, radio and television care about is getting their audience to read, watch or listen to the news they have to deliver. If the news you deliver isn't relevant to their audience, it simply won't get a run. Local newspapers and radio, in particular, are more interested in running stories that relate to their local area. Look for local angles or connections to the stories you're pitching. Even a national story can be made local if it relates to you – the local! Make sure this local connection is in the first few lines of your press release as they may never reach your third paragraph. Make sure you're familiar with the publication or program before you pitch. Oh, and ensure you're pitching media that your ideal client is consuming.
Have you written a press release lately?

Are you struggling to write a press release that actually gets journalists' attention? The Complete Press Release Kit shows business owners how to write an effective press release – even if you're not a good writer! It provides a full guide to writing a press release, PLUS templates you can use for various press angles.
Grab your copy here.