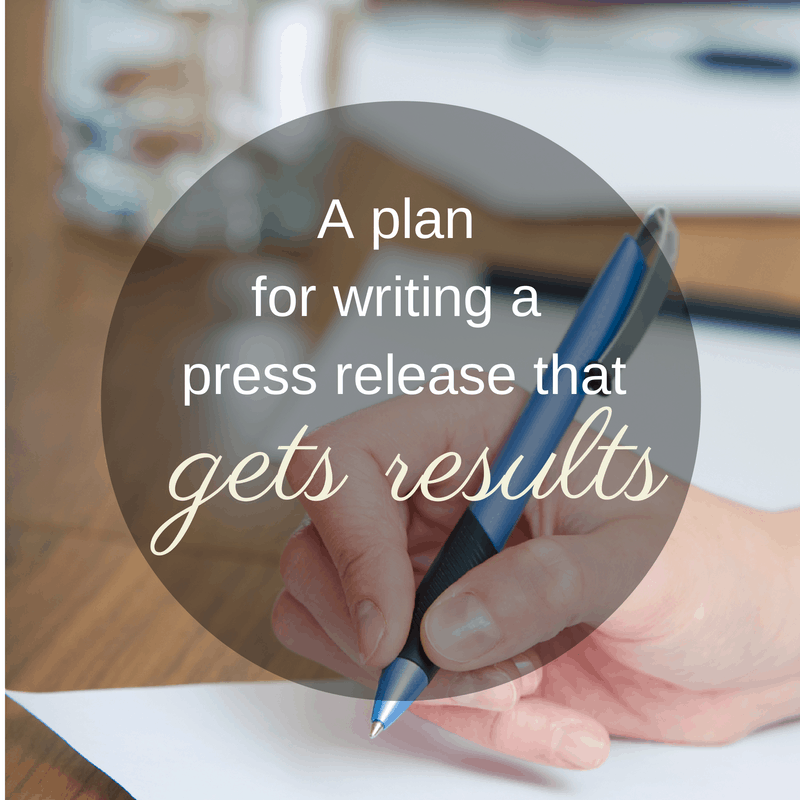 Now you know the merits of writing a press release, let's dive into how to write a press release.
OK, be honest with me… You've been sitting there, looking at that screen just hoping something amazing will jump onto the page. Right?
Then you finally have an awesome idea, but you don't know where to start. Am I on the right track?
I'm going to make this as simple as possible for you. This is taken from The Complete Press Release Template Kit, a handbook + press release templates, which you can grab a copy at 75% off by entering the promo code NEWYEAR.

Let's start: First we need to know what our story hooks is. Remember, we need to think like a journalist and find some REAL news.
As an exercise, let's make up our own story to play with. Let's go with a loose outline to a story I saw on news.com.au's health section, but change a few details…
Let's say you're a personal trainer who is also a mum. You're releasing a book, Get Your Body Back. Through working with women, you've found one of the key trends is that women want to get back to their bikini bodies after pregnancy. As you scroll through emails from your ideal clients, comments on your blog posts and Facebook posts (or maybe you do a survey), you notice words like `don't want to give up on looking good naked', `want to feel beautiful again and get back my body confidence' and `I want my bikini body back'.
So your headline could be: Mums want their sexy body back – because this is similar to headlines Body&Soul magazine use. Now you've got your angle — your hook that will grab a reporter's attention: "Mums don't believe having a baby should mean giving up on ever wearing a bikini again.''
This goes against a lot of experts who encourage women to instead focus on their health first. So we have a bit of controversy, we have a trend and we could even pull in some celebrity elements here with Jessica Simpson and Kourtney Kardashian getting back to their pre-baby bodies quickly. If we ran this at the start of summer or aligned with news of a celebrity getting back to their pre-baby body, it gives us an added element of timeliness. Now let's craft our headline…
1. How to write a press release headline
The journalist isn't interested in helping you promote your business. They simply want a story that's interesting to their readers AND that makes them look good in the eyes of the editor. They only want to know the info to help craft a compelling story about mums and body image. Strip away any inclination to want to sell. Put yourself in the shoes of the journalist and the reader.
Here are a few tips on how to write a press release headline:
The most important part of your media pitch and press release is your headline, because this also becomes your email subject line. It needs to be "clickable''.

Experiment with straight news headlines and clever headlines to pique their interest.

Use the "how to'' or tips headline. So "how to effectively do social media in less than 30 minutes a day''. So it's how to do a task that will give you a benefit.

Question headlines are great for surveys. "Do employers really know what mums want in the workplace?'' Make it a question your target market want answered. "How do you grow your business on a limited budget?''

List headlines. These are great for bite-sized articles. "10 must-have apps for businesses''. "7 lessons on making women feel valued in the workplace''.

Use emotionally charged words or strategic word selection. This will depend on your media outlet, but PRs have been renowned for using words like `Green' , `Secret', `Fat' and, of course, `Sex' to get journalists to click on their releases to read more. Don't go over the top with this and make sure your words are relevant.

Remember, to go to the publication to see what types of headlines they're already running and emulate their style.                  
OK, let's craft your press release headline. MUMS WANT THEIR SEXY BODIES BACK
2. Subhead
The press release subhead gives you the opportunity to flesh out your angle and further hook the reporter, without overshadowing the press release headline.
Here's our headline/subhead for our press release: MUMS WANT THEIR SEXY BODIES BACK Author uncovers trend for new mums to swap baby bellies for bikinis
3. Intro paragraph
Journalism 101 is that the lead paragraph includes the • Who • What • Where • When • Why or how – the why is usually your `hook' If the reporter were only to read the lead of a good press release, they'd have everything they needed to get started.
We simply stick to the facts here. Don't waffle, use spin, jargon or superlatives. An old Editor told me to write like a Year 7 student could read it. Jargon used in your industry can often confuse readers, turning them off the story.
Stick to simple words that anyone can relate to. And get rid of superlatives. Superlatives are adjectives, like "wonderful", "brilliant", "best" – even "groundbreaking" can annoy journalists. Mainly because most things described as "groundbreaking" aren't actually groundbreaking at all. They're opinion-based words (usually biased too!).
Let's have a go for this story: Australian mums shouldn't give up on their goal to get back into a bikini after birth, author and leading fitness instructor Josie Smith said. Mrs Smith, who is pregnant with her third child, said her findings revealed women gave up on the idea of ever wearing a bikini again before they gave birth to their child. She said glamorous bikini photoshoots – especially pregnancy and then post pregnancy shoots – were giving these women a goal to work towards.
4. Press Release Body
The rest of the press release serves to back up whatever claims were made in the lead and headline. In this case, you'd pull some quotes from a client or an expert (just make sure you have their permission). Use enough supporting material to make your case, and to demonstrate that, whatever angle you're promoting, you've done your research. Just ensure you stick to ONE theme throughout and that the message is directed at your ideal client.
You'll notice, press releases are written in the third person and, in most cases, are in past tense. Although, you may want to look at the publication you're pitching to see if this is also their style.
Next, a quote will help put in some perspective: "People think it's superficial, but the reality is being confident in your own body gives a woman a new level of strength and reminds them anything is possible,'' Mrs Smith said. "This isn't about celebrities or image. It's about setting and achieving goals.''
Or, you might ask a mum for a quote: Mum-to-four Lucy Jones said she really wanted her bikini shot after her fourth child, so working on an eating plan and doing exercise she could do alone or with her children gave her a goal to work towards. "Once you've had a baby, it's easy to focus on the baby and forget about yourself. Now I have my bikini photo, I never want to go back,'' Ms Jones said.
You might want to include some of your findings or data next. Out of 300 mums surveyed via www.josiefitness.com: – 72% want to get back into a bikini after having children – 75% said getting their body back would boost their confidence – 80% are doing it purely for themselves and not to please others
A quote about the above findings. Mrs Smith said the findings proved this wasn't about image for the majority of women. "Our findings clearly show women are doing this for themselves – to give themselves something to strive for, to enhance their life and to feel good. This isn't about conforming to what society wants.''
5. About or Boilerplate
Lastly, write your boilerplate. This is a short piece that explains your business. josiefitness.com was founded by Josie Smith in 2007 in a bid to help women find fitness and health after having children. The Chicago mother has worked in the industry as a fitness trainer and advisor for 15 years and studied at the Royal School for Fitness. Josie, who is pregnant with her third, has returned to her pre-baby body after each child.
6. Call to action
Next, include # ENDS #'s and centre them. Below the # ENDS #'s, add your call to action: For more information or to arrange an interview contact: Josie Smith, Josie Fitness, 1234-4567, josie@josiefitness.com, @JosieFitness.
You can add a different call to action. For example:
Do you want to send a sample of the product to them for review?

Are you offering a giveaway?

• Do you want to be interviewed or for an executive on your team to be interviewed?

Take the journalist on a facility tour?
Invite them to an event?
Ask them to experience your retreat or service?
And that's it. Easy, right? You can do it.
Just start writing and following this step-by-step and see what you end up with. Feel free to share it with me on social media.
And that's how to write a press release.
If you'd like to learn more about how to write a press release to save time and money, grab your copy of my The Complete Press Release Kit for 75% off by using the code NEWYEAR . It provides a full guide to writing a press release, PLUS templates you can use for various press angles.

If you don't regard yourself as a great writer and want an easy template to fill in to get your message to the media quickly and easily, this is the perfect kit for you.
Have you written a press release yet? What's been stopping you?