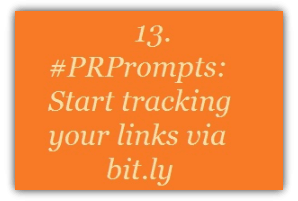 So did you see bit.ly has changed? Yep. It has gotten all savvy on us. So let me give you the basics.
Bit.ly is a URL shortening platform that helps you track URLs and customise them so that you can organise and share. Bitmarks are the new ``bookmarks'' that help you save and search your saved links. Stats are now better laid out and show a percentage of clicks, number of shares and how many people have clicked on the links.
Why do you use bit.ly? It is a great platform to help track what links you share and, if you are linking to your website, where the clicks are coming from. I use bit.ly for all my links to my website. I like knowing how many people have clicked on my shared links. It helps me to get to know my audience and whether my community is learning and gaining anything from what I am posting.
Get bit.lying today!
Katrina Higham runs her own microblog full of social media tips and opinion. She is also the inspiration behind this micropost series #PRPrompts. Be sure to connect with her on Facebook or on Twitter at @KatrinaHigham.