On Friday the Mum PR Facebook page reached 500 likers. Oh, how I love a round number. It only seemed fitting I pull out a giveaway to celebrate such an occasion.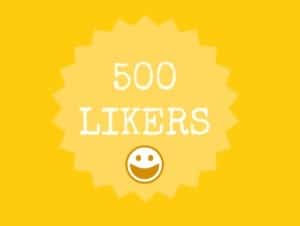 There's another real reason I'd love to crack open the champers. This week I'm launching a suite of new services that will continue to grow over the coming months. There are mentoring sessions, a press release writing service and soon to be released books and programs. And that's just the start.
While sipping on my Jansz, I thought about how I could celebrate with you. Unfortunately, I can't send you all a glass. So, here's what we're doing…
We're giving away a tailored press release, written by a journalist, to one business, brand or blog owner to help move their business forward. If this is your year to get your business noticed, then this is a great place to start.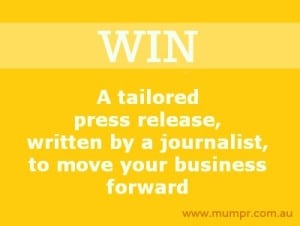 What do you think?
It's pretty easy to enter. All you have to do is tell us: what's unique or special about your business? Now that's not too hard. By thinking about your USP (unique selling point) it allows you to see all the media opportunities available to you.
OK, off you go. I've got more champers to pour.
Sorry, The Form Is No Longer Accepting Entries
Terms and conditions: The Press Release competition will be judged on creativity and originality. The competition opens Sunday, March 3, 2013 at 7pm AEST and closes on Monday, March 18, 2013 at 7.30pm AEST. One entry per person. There is one prize winner. The winner will be notified via email and name published here. Entries remain the property of Mum PR and may be republished.
(PS. The Mum PR Twitter account is not far off 1500 followers. Might be another excuse for a giveaway, maybe!)
(PPS. Please note, the Work With Me page is still in construction phase, so expect some links not to work for a couple of days yet. Thanks.)