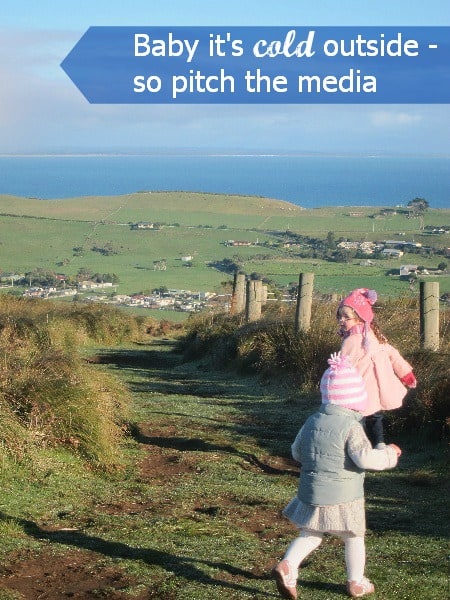 The conversation in our house this week has been centred on one thing – how cold it is here in Tasmania. When I was in the newsroom, a change in weather or seasons marked a reason for a story. And it's a reason for you to pitch the media.
Seriously, weather stories in newspapers, on radio and TV are lapped up by readers, listeners and viewers. Whether it's a drought, flood, snow, high winds or heatwave, the media will begin looking for an angle.
Not to mention even a change in season can be a great hook. Winter is just over a week away and prime time to start pitching winter story angles.
The weather
Can your product or service solve a weather-related problem? Or is the weather causing problems for your business?
While it may be obvious to primary producers with weather affecting crops – and often prices for consumers – it really can stretch beyond that.
If floods cause significant damage to your bricks and mortar business, you've got yourself a reason to ring the media (although, not the nicest of reasons). Have floods or snow affected your product – or the price of your product?
Have you seen an increase in sales of your product since winter hit? If you own a heating business or even sell gumboots, have you sold out of an item in record time? Are people increasing their orders because of the weather? Look through your data and see if the change in weather reveals any interesting patterns.
Drive safely campaigns
Many media get behind local and national police efforts to keep our roads safe during the winter months, when they become slippery from rain, snow and ice. If you're a car safety expert or driving school instructor, you can share tips with the media on how to make sure your vehicle is roadworthy or how to drive in certain conditions.
Travel options
Speaking of travel, if you're a travel business, there may be a story in locals fleeing the cold weather to head for more tropical destinations. Look through your own data and see what patterns are emerging that can be tied to the weather. Alternatively, if snow is your selling point, let the media know when the first signs of snow appear. It makes for great visuals.
The winter blues
If you're a psychologist, you're in a great position to talk about the winter blues. What steps can people take to better manage the winter blues? And is Seasonal Affective Disorder something people need to be concerned about in Australia (I've done stories on this, so trust me that it's of interest to the media).
Weight loss programs
The need for people to stay motivated with a healthy diet and exercise during winter is strong. Dieting is such a controversial topic and one the media lap up. If you have strong opinions on this, it's a great way to pitch yourself.
Other, lighter options, are to get your staff involved in getting fit as a whole entity or for business owners to put a call out to other business leaders to join together to keep fit and lead the way in the community. These type of stories are ideal for TV because of the imagery.
Another option is to get involved in fun runs or athletic events, particularly those supported by or sponsored by the media. The media will be looking for stories to do in the lead up to the fun run or athletic event and on the day. Just make sure you're wearing company sponsored sports clothing in case you end up with your head on TV or face in the newspaper.
End of the financial year
The start of winter ties in with the end of the financial year. If you're an accountant or financial adviser, this is an ideal time to pitch predictions for the coming financial year. Maybe there's new trends or changes in the financial industry the public should know about. Are there dangers if people don't educate themselves about a certain area of their finances or taxes at this time of year?
These are just a few ideas you could tap into, but there are so many more. I hope it inspires you to start thinking about how you could pitch yourself to the media come June 1.
Have you used the weather as a story pitch?
Make sure to sign up to the newsletter, as we'll be sharing a top publicity ideas cheat sheet soon.