The dust has far from settled on this rebranding, but I thought it was time I explain why we've moved from Mum PR to Kellie O'Brien Media.
The idea has actually been there for quite a while. I just haven't had the time – or confidence – to do it. But something happened the other week that made me bite the bullet and get on with it.
I was doing a social media presentation for a Tasmanian company. Nothing new there. I've done plenty of social media presentations for businesses.
At the end of the presentation, one of the owners of the business asked if I had a heap of business cards. She constantly gets clients mentioning how they need to incorporate social media into their businesses but they don't know where to start. So I pulled out this double sided business card.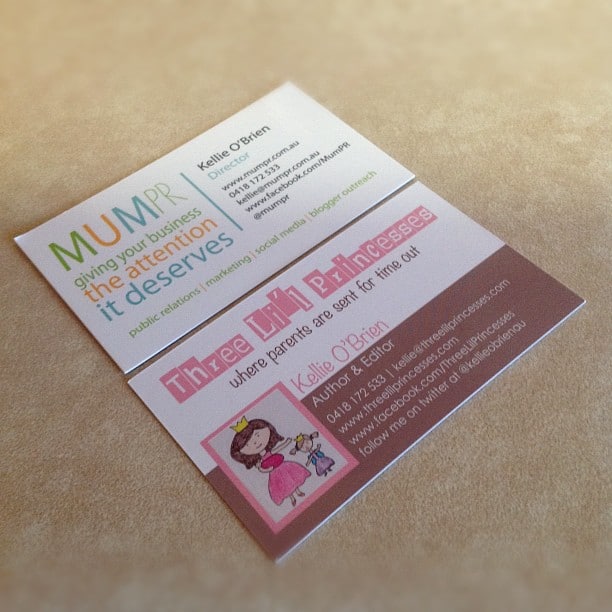 Now, I have to tell you, the business I was doing the presentation for had nothing to do with the mum market. And I'm betting the businesses asking her about social media weren't either.
I felt completely embarrassed and apologised for handing over my business card. Sounds stupid, doesn't it?
Being a business owner was never a goal


When I started Mum PR a few years ago it was by pure accident. I didn't intend to start a business. I had every intention of going back to journalism after 12 months of maternity leave. It had been my dream job – the thing I'd always wanted to do. Then someone lit a fire to start my own business and I got hooked.
It was a mum in business who first prompted me to start, it was a mum in business who helped me name the business and, being a mum in business myself, the mum market felt like the right fit.
It also meant I never had to apologise if I answered the phone and had screaming children in the background. Although, if the girls are at a high decibel level, I generally just leave the call for message bank.
As the business grew, I caught the attention of corporate business wanting to tap into the mum market. In the past six months, there's been another shift. I've done everything from blogging and social media management for a national insurance brand, social media coaching for a national finance company, and copywriting for an international seafood company – and none of them have much to do with mums. Or even to do with public relations.
I feel really blessed right now, because I seem to attract amazing clients who inspire me in what they do in their businesses. I also feel pretty privileged to step inside their businesses and help them grow.
My inspiration
I have quite a few people I follow online who inspire me. There are three who I really admire.
Jeff Walker – I'm part of one of Jeff's programs at the moment. This man has been my biggest inspiration this year and has helped me create something I'm excited to launch soon. Stay tuned!
Marie Forleo – I did one of the ever-energetic Marie's programs earlier this year. This woman gave me oodles of confidence and has allowed me to see things in my business I didn't see before.
Amy Porterfield – I've just finished one of Amy's programs. She's inspired some of the tools and resources I now use in my business and she's taught me so much about turning Facebook into a sales machine.
What each of them have in common is their personal brands are strong and it's something I want to focus more on. Sure, there will be brands under the Kellie O'Brien banner, but the umbrella brand is my name.
And no, I have no intention of selling this umbrella brand, for those wondering if I've considered that!
To the future of the brand


One thing I do want state is that just because we've rebranded and just because the level of client is changing, doesn't mean we won't still service mums in business or businesses wanting to target the mum market.
If that's you, just know I'm still here. I'll still be providing the same content – social media, blogging, digital marketing and public relations. I also have a book coming out early next year and would love to share some of the process in writing your own book for those of you looking to gain "expert status'' through being an author.
As I mentioned, my client list and online and offline teachers have really inspired me and I've definitely learnt a lot about running a business in the past six months. I'd love to pass on some of that knowledge through this blog and the Publicity Builder newsletter to help any of you wanting to "play a bigger game'', so to speak. It's funny how much of it's based on mindset – with some strategy and systems thrown in.
Anyway, more on all that later…
Have you gone through a rebrand? How did you find the process? Or are you thinking about rebranding in the future?