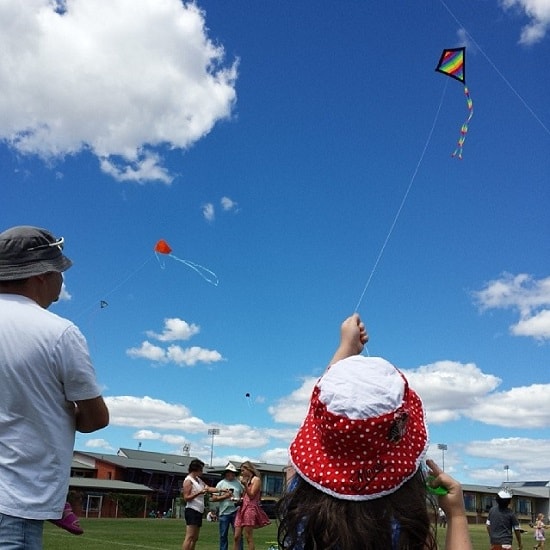 The girls said the funniest things this week – and I've forgotten every one of them. Note to self: write them down.
Anyway, instead I have a few other wins for the week before we dive into the Aussie Giveaway Linkup:
The Teddy Bear and Kite Flying Festival was on in Devonport yesterday. Apart from initially nearly taking out an eye or two when we launched our kite, eventually we did get it in the air and working properly. Those things are dangerous. Although, not as bad as the teddy bear drop. While everything went to plan this year, in a previous year the helicopter ended up dropping the teddies in the water instead of Meercroft Park.
Tomorrow is the final module of Publicity Alchemy Live for those who took part in the first round. It's been such an amazing five weeks – and I still have more bonuses for them! It's been great to watch how each participant has grown in confidence when it comes to tackling PR. I'll be opening Publicity Alchemy up again soon, so be sure to register for our eNewsletter to hear more.
We decided to treat ourselves to breakfast out on the weekend after swimming lessons. Holly had taken her little walking, oinking piggy, so Julian thought it was an opportune time to have some fun. This is the picture and status. Seriously!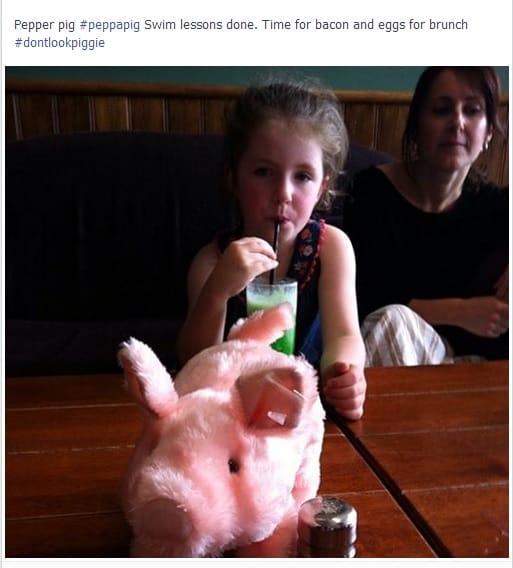 OK, onto the linky now…
Aussie Giveaway Linkup instructions:
If you're a blogger or business wanting to take part in the Aussie Giveaway Linkup:
Only link directly to the giveaway post/s and include the prize and end date in the linky tool below. Link each giveaway separately. If you need to delete it, hover over your link, wait until the red "x'' appears and click.
Giveaways must be open to Australian residents and be run by Australian-based bloggers or businesses.
Grab the NEW button below to add to your post.
A new list is added each Monday so bloggers and business owners need to add their links weekly.
Start entering the giveaways! Entry is at your own risk. We do not take responsibility for unfulfilled prizes or a blogger/business not abiding by their own terms and conditions.

Hosted by Kellie O'Brien Media