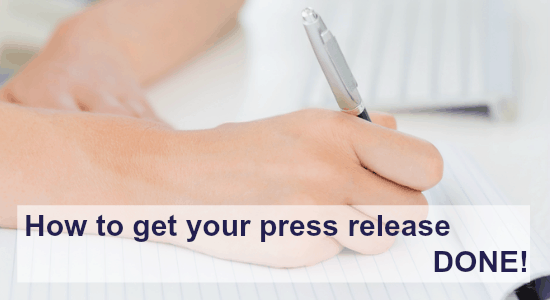 Last week I needed to get a press release out but it just wasn't happening. I knew I could sit there, staring at the jumbled thoughts on the screen waiting for inspiration to hit. Or I could do something else.
I chose to do something else. And it worked.
The next morning while I was doing my hair in the bathroom, an awesome angle for my press release appeared in my head. Next, a bevy of great lines and quotes.
And there it was – 10 minutes and it was done.
Although, I did have the little issue of my hair not being quite right for the rest of the day.
The thing is, you can sit at your computer waiting and hoping for the right words or you can dive into something that completely inspires you.
Here are some things I do when the words just won't come:
Get some exercise
I"m a bit of a slacker when it comes to exercise. I make the excuse that I run around after children all day, so why do I need to exercise? However, there's actually some research behind this. One of my mentors tells a story of sitting in his office every Saturday and trying to get through the mental aspects of his job. It would take him all day and the work was hard. When his children started little athletics, he used to sit of a Saturday morning and watch them. Eventually, seeing some parents involved in running too, he decided to join in. When he returned to the office that afternoon, his thoughts were clearer, he was able to get twice as much work done and the quality of his work improved. Try it next time you're sitting at your desk feeling a bit sluggish.
Step awaaaay from the computer
Giving yourself a mental break from the computer screen can do wonders. I'm not the best at taking proper breaks – often lifting my head to see it's 2.30pm and school pick up time, despite not having had lunch yet. Admittedly, I'm getting better at having 10-minute breaks, which can involve making a cup of tea, a bit of meditation, a walk – heck, even putting on a load of washing. Who would have thought the washing would inspire me!
Read something… anything
Taking my eyes off the screen and reading a magazine or an old fashioned book (you know, the ones where you physically turn the pages?) often inspires new ideas, thoughts and angles for me. Sometimes the ideas aren't necessarily to do with what I'm working on, but it does get the creative juices flowing.
Google it
If you're still struggling with writing your press release, then go into Google, hit the `News' tab and start using keywords for your topic. By reading what others in your niche are writing for news organisations and press release sites, it can inspire just the right angle or words for you. No copying, of course!
What about you? What do you do when inspiration won't come?
PS. Want to dive deeper into press release writing and find out how to easily get your next release done? My Complete Press Release Template Kit will guide you through how to write and release your next press release, with additional templates I've used in my business and for my clients. Click here to find out more.