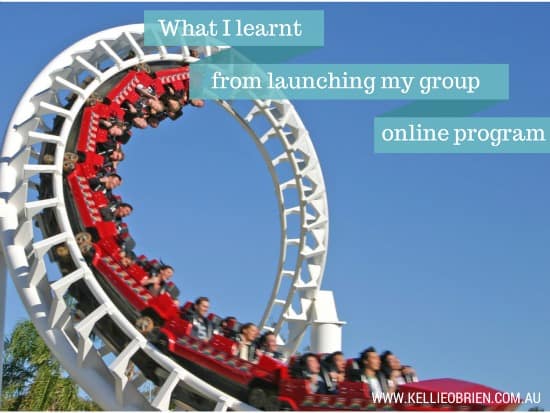 I remember, pre-kids, going to one of the theme parks on the Gold Coast with Julian. He was continually pestering me to go on those big scary rides. I hate big scary rides.
Anyway….
He somehow convinced me to take this ride called the Cyclone. It's just a small little train-like ride, he assured me. You'll love this one.
A little bell went off in my head at the name Cyclone, but he was just so damn convincing.
So I followed.
I was excited. I'd be able to let my hair down, without the fear factor thrown in.
We entered a tower thingy, with lots and lots of stairs. Halfway up these stairs, with 100 people banked up behind us and another 100 in front of us (OK, maybe I'm slightly exaggerating on the numbers) he decided to share that, actually, the Cyclone is a turbo-charged, spew-fest, scream-till-you-lose-your-voice rollercoaster.
My face went white. Apparently.
I felt sick.
I felt claustrophobic all of a sudden.
I needed to get out.
FAST.
But I couldn't. There's no way out. You have to proceed through to the ride and… gulp!… take the ride.
During the launch of Fearless Business Blogging – ironic name, right? – I got to thinking about that rollercoaster ride. Mainly because my launch was exactly like a rollercoaster ride.
One minute you're riding high and the breeze is gently blowing through your hair. You're confident – you've got this!
The next… you're crapping yourself.
Unlike the Cyclone, the majority of the launch I actually quite enjoyed. I've discovered the whole idea of creating programs for entrepreneurs, putting together launches and helping them deliver their gifts to the world is a bit of a superpower of mine. Who knew?
The emails I received about the blog posts and emails I sent out were incredibly heartening. More of that wind in my hair kinda feeling. You can't help but smile from the warm fuzzy comments.
But then you have those days where you might not get a sale. And you sink.
You start questioning why you're doing this? Who am I to teach people how to create a blog that will fuel their business? A blog that will help them launch their next big thing.? A blog that has heart and resonates with their ideal client?
And then a sale would come through. And that free flowing hair thing starts all over again.
The thing is, knowing WHAT to do has never been my issue. You might relate to that. But the mindset stuff, well, boy oh boy, does that one throw me off course.
Launching your baby into the world (whether a website, a blog post, a product, a service or a program) will always bring with it out some sort of fear and nothing's gonna stop that. You just have to know how to work through it.
I thought I might share how I worked through my darkest moments during the Fearless Business Blogging launch. Ready?
Here are some things you might want to consider before your next launch:
Get yourself some support and accountability
I honestly think (actually, I know) my success has skyrocketed since I've surrounded myself with the right people to steer me in the direction where I need to go. They help keep me accountable (I didn't realise how incredibly important this was until I had someone making me accountable to my goals), enable me to get out of my own way (hello, mindset!), support me when I'm genuinely stuck and do a little happy dance with me when I hit my destination.
Learn some mindset techniques
I wish I'd know this stuff when I did my last launch. Back in the day, this was all a bit too "wacky wacky woo woo" for me. Now, it's an essential part of my business tasks. When those niggling fears start to rise, it's reassuring to know you have a go-to to quell them. Want to know what I'm using? Well, I've been doing meditation for much of the year and that's been a key one. But I'm also now exploring EFT, to help with shifting blocks, and the DeMartini Method, which is a series of questions that allow us to see an underlying order in our activities and life. Both are incredibly powerful.
Don't beat yourself up
I remember when I did Jeff Walker's intimate Seed Launch program a couple of years ago that he admitted he hasn't done a launch where at least SOMETHING went wrong. That was quite reassuring at the time – knowing that even the big gurus who launch ALL the time still miss a link in an email or forget to switch the shopping cart on. Melanie Duncan further confirmed that for me only this week, when she admitted similar in relation to her websites. It's human nature and it's not worth beating yourself up over. OK, it happened. Fix it and move on. For me, during Fearless Business Blogging, I completely stuffed up the webinar time on GoToWebinar and had people emailing an hour after it had finished asking why it hadn't started yet. Gah!
If you need a bit of guidance or some actionable steps to take in building your business, then join me over in the 7-day How To Make Money Blogging Mini Course. It's a free course and will definitely set you on the right path.