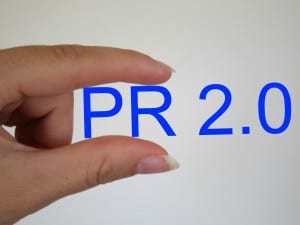 SO, YOU can finally see the benefits of web public relations and getting your business featured on online sites. Well, I hope so, anyway. But what creative content do you offer them?
The same rules of PR apply here – the content needs to be interesting, entertaining or educational. This is not about you and your business; it's about the online site's audience. The difference is the scope for creativity in online news sites and blogs is endless. The more you think outside the square, the greater the attention you'll receive.
Here are just a few suggestions:
Giveaways appeal to many media platforms. It's a way a blogger or editor can reward their readers. Quite often, you can send a full-size sample to them to use as a review as part of the giveaway.
Guest posts for blogs or articles for online news sites. Just make sure the content you provide is of high quality. This can be anything from trends within your niche to sharing expert knowledge in your field
Creative story angles using your product. Perhaps you sell party supplies. The blogger or editor may want to run a post about how they organised their child's birthday party, incorporating your party supplies.
Guest on podcasts. This is simply like an online radio show hosted by a blogger on their site. Podcasts are also available via iTunes.
Offer the author the chance to do a Q&A with you on your skill set. This can be conducted via email, over the phone or on Skype.
You could write a How To series for a blog or news site. If you run a MadeIt store, you could offer a "how to knit" series.
If you're releasing a book, organise an online book tour on a host of bloggers' sites.
Offer to do an interview, demonstration of how to use your product or share your industry knowledge via video and upload to YouTube.
Tell your personal story. Nothing is more powerful than a personal story. It's the easiest way for people to connect with you and for you to gain their trust.
Create a series of photos showing how to use your product or creative things to do with your product. You could even add an element of fun here. Does anyone remember how Coke and Mentos "erupted"? Great publicity if you can get it.
When it comes to the content itself, the real question to ask is what would YOU want to read? What content would you want to share with your networks?
Alternatively, you can visit forums in your niche and find out what people are asking. Even ask your own followers on Facebook or Twitter what questions they'd like answered. Take a look in your archive and see what comments people have left. Are they asking questions you could turn into posts or articles?
What online content have you seen for businesses that grabbed your attention?
We'll provide more on content and finding your story angle in the coming weeks, so subscribe so you don't miss a post. We also provide exclusive content in our fortnightly newsletter.