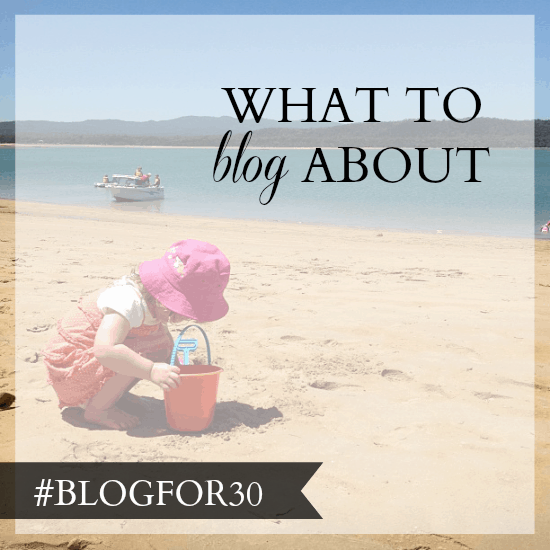 Now that you have your blog functioning, what should you blog about? The possibilities are endless. Let's focus on your business blog. You can blog about:
A Resource List. You can see my three resource lists in my sidebar – Publicity For Profit, Build A Blog That Matters and Social Media That Converts.
Disagree with a popular opinion or trend
Create a poll or survey through a post. Then share those results in a new post.
Compile a list of posts on a topic (yours or others) and create a link roundup
Review a book or product relevant to your niche
Write a series (this is particular good for SEO if you link each post to the next)
Show how you create your product
Reveal a secret about your success
Create a weekly feature (for example, I have the Aussie Giveaway Linkup every Monday)
Inspirational posts – these are designed to make your readers feel good
And that's just a start….
You can do this via photographs, text, videos, podcasts or infographs.
However, make some rules…
Be aware that others can read your blog (unless you place a private setting on it). I have rules around what I will and won't post, especially on my personal Three Li'l Princesses blog. I won't tell people where my children go to school, where I live, when I'm away on holidays and I won't use geotagging. These rules apply to social media for me too. Posting photos of your children or yourself is a personal choice.
But be open to opportunities….
What you blog about can also manifest into opportunities. What are your end goals? Do you want big companies chasing you with product, money and experiences to blog about (I get countless emails from businesses wanting space on my personal blog. It's like a mums group where one mum's personal recommendation on a product has immense power because of the trust she's built with her fellow mums), a book deal, to launch a business, to attract new customers, opportunities for collaborative projects…
I've been blessed with some incredible business and personal opportunities, simply by having a blog.
What will you blog about? What rules will you have in place for your blog?
FREE COURSE
Click the image below to learn how to make money from blogging in this 7-day mini course