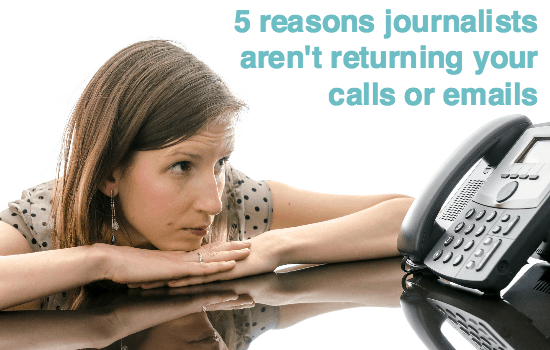 One of the most frustrating things as a journalist – aside from people not answering their phone when you need to interview them – is being overwhelmed by an inbox full of bad pitches. It's been a few years since I last tapped out a front page story, but still having access to what happens on the inside reveals shrinking newsrooms are only making the situation worse.
I thought it was about time I shared why a journalist isn't calling you back or responding to your emails after you've made, what you think, is a fantastic pitch as part of your media plan.
Here are 5 basic reasons journalist aren't returning your calls:
1. Your story isn't newsworthy. If you pitch a story that has no interest to the publication or its audience, it's over before you've even begun. You need to be able to apply the "so what?'' factor to the story (ie, why should they care?), to see whether it really does have any news value.
2. There's no local angle. If you're pitching to local media outlets, the story must have a local angle. What "local'' means can differ with each publication, so it pays to check the media's website to find which territory they cover. The media use wire services to cover national and world events and will only look to write a unique angle if you can provide a strong local hook.
3. It's not relevant to their niche. If you're pitching media that cover a particular niche, of course your story must fit with the topic they're already writing or broadcasting about. There's no point a florist pitching Wheels magazine, unless the delivery vehicle they use is a rare machine of interest to car lovers and comes complete with an interesting back story.
4. You're pitching the wrong person. Generally, if a pitch landed in my inbox and it was clearly not for me, I'd forward it on to the relevant reporter. I can't say all journalists do that. In fact, most don't. You need to make sure the journalist who covers the particular field you're interested in, is the person you pitch. Avoid chiefs of staff and editors at newspapers – they're inundated with pitches. In TV and radio, look to journalists and producers. In magazines, find the journalist or section editor (not the overall magazine editor).
5. You continually pitch bad stories. If you want to get into a journalist's little black book (OK, so mine was green), you need to be viewed as a good source for stories. A journalist will quickly tire of a business owner or public relations consultant who pitches one irrelevant story after another. You'll be viewed as a time waster and, very often, any good future email pitch may get deleted before it's even opened.
Don't be intimidated by that list though. Most of it is just learning to think like a journalist. That, in itself, is not hard. I'm happy to let you in on all the secrets I know.
Learn to think like a journalist when you pitch the media
Click To Tweet
If you're tired of receiving a "No" from journalists – or, worse, no response at all – watch the 5 Critical Steps To Getting A Journalist To Cover YOUR Story free training replay.