Often, the reason entrepreneurs and small business owners fail to get publicity is because of a lack of planning. If it's not in the diary, then it's unlikely to happen. Is this you?
Even the smallest of steps can help make a big impact in growing your business. It can also help you manage your time better, make better use of the opportunities presented to you and allow you to plan your work months in advance and not miss those important deadlines.
If you read and implemented the actions from last week's post on customer avatars, you will have put together a list of what your ideal customer is reading, listening to and watching. Study those media outlets and the types of content they produce, then begin your media plan.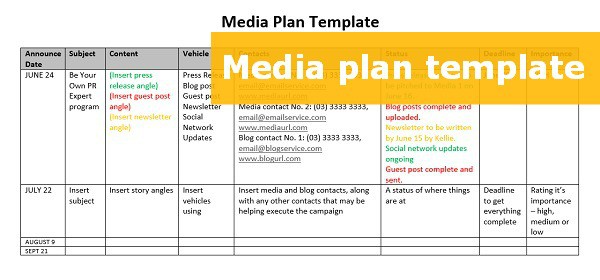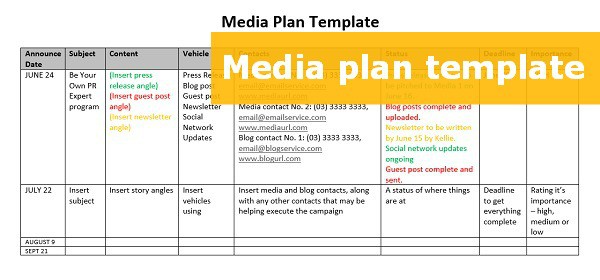 Setting up your media plan template
Open a Word document or Xcel spreadsheet and create a table in the document. Add in categories along the top bar, including announcement date, subject, content, vehicle, contacts, status, deadline and importance.
Announcement date: This is the date your product, service or story angle is to go live. Or, it could be the day you want the story, article or guest post to go live.
Subject: The subject of your media pitch.
Content: What content will you be pitching?
Vehicles: This is what vehicles you'll use to get your message out there. Think press releases, blog posts and newsletters.
Contacts: This should list all the media contacts or bloggers' names, their contact details and website addresses.
Status: An idea of what needs to be done and what's already been accomplished. It's your "to do'' list.
Deadline: Obviously, the deadline when everything needs to be complete.
Importance: If you're working on multiple campaigns at once, and particularly if you're looking at including magazines which can have a four- to six-month lead time, this allows you to priorities your campaigns.
The media plan template can be as detailed or brief as you like, as long as it's easy to follow. You could put one task in each row or put all the tasks for one campaign in a row. It's up to you. (You can download a free media plan template if you don't want to start from scratch.).
Add in your content
If you already have publicity opportunities planned, add these to your worksheet. Then go through all seasonal, holiday and month-based topics you could cover. We cover these inside our Public Relations News Calendar, which also includes a handy calendar and monthly story prompts.
For a fashion business, that might mean focusing on fashion trends for the start of each new season – summer, winter, autumn and spring, Mother's Day fashion in May, spring cleaning your wardrobe in September and Christmas office party attire in December. Then look at products or services you plan to launch and events you're oganising or which you're involved with. Maybe you're doing a trade fair in August and hosting your own fashion parade in November.
Add these to your calendar. If you can see gaps in your calendar, look at evergreen content and topics you could write as guest posts or articles.
Make it actionable
From here, the key is to plug all these tasks into your calendar to make sure you stick to your timeline. I highly recommend using Google Calendar. It really is a great way to put in all your tasks and colour code your PR activities so you can see which tasks need doing and when.
Keep revisiting it
Don't write it and leave it. The key really is to keep refining it. Add in new content as it presents. Determine what has worked and what hasn't and note these for the next six- to 12-month plan.
You can download a done for you media plan template to use, which also gives you a sample media plan within it to show you how to use it and increase your chances of media success.
This means no excuses. I challenge you to set aside an hour or two of your time to put together a six-month media plan. Once it's complete, come back and let us know what you learnt during the process. We discuss media plans more in-depth in Publicity Alchemy.