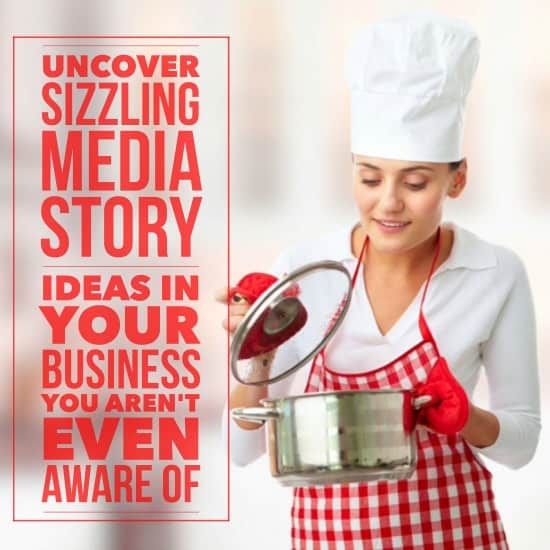 Trying to find a good news story as a media pitch idea for journalists can be super simple when you're looking at someone else's business.
But your own? It's like trying to find Where's Wally in a Christmas candy cane store.
We're often so close to our own businesses we can't see the obvious story ideas others identify easily. And don't worry, I'm one of those people too.
What that means is you can spend a lot of time procrastinating on what is the best media story ideas to pitch journalists, instead of actually pitching. And what does that mean? Well, usually your competition gaining regular media mentions and you scratching your head wondering where Wally went.
This is one of the reasons businesses don't end up moving forward with publicity. They don't believe they're newsworthy enough and so they give up. Or, alternatively, they feel they need an expert to come up with those stories for them, but the cost of a PR agency becomes out of the question.
But today we're going to banish that though, because I'm going to show how doing your own public relations isn't all that difficult – once you have a few simple techniques and tools.
Doing your own PR isn't difficult – once you have a few simple techniques and tools.
Click To Tweet
How to find news stories in your business
Before you dive head long into finding a good news story, you need to know who your ideal client is. If you've been following me for a while now, you probably just rolled your eyes. (Not that again!) Oh yes, that again!
Once you know customer personas for PR, it makes PR storytelling, pitching the right publications and developing sound bites for your interviews a breeze.
Your ideal client will also give you clues as to what's relevant to them, what could be newsworthy and where their pain points are by the questions they ask.
Next, you want to look at your business as if you're looking at it from someone else's perspective – your ideal client or a journalist. I know this one is easier said than done, but it opens up your creativity more. You start to see opportunities you might not have been aware of before.
The best ways to use PR storytelling
So, how are you going to use these PR storytelling ideas?
Well, everything we'll be tackling can be press release ideas for small business or entrepreneurs. But not everything has to involve writing an entire press release either.
It could be used as a simple media pitch – that is, a simple email to a journalist. No press release required.
There is a time and a place for using a press release or a media pitch, which we won't go into in this post. But I want you to be aware that this doesn't have to be a major task for you.
Another idea is writing your business storytelling idea into a blog post, which may, in turn, get picked up by media through search results or social media shares. Journalists now use social media to source much of their stories.
Media story ideas for small businesses
Let's get creative now and start finding some newsworthy story ideas for your business. This is by no means an exhaustive list, but it will get you thinking outside the square a little more.
Evergreen stories
Every business, I don't care what niche you're in, can find evergreen stories to tap into. Evergreen stories are those dates that happen every year – Christmas, Valentine's Day, Mother's Day, first day of Spring – that you can wrap your business story around. There are more evergreen stories inside the 2016 Public Relations News Calendar that will help you come at a particular event from a different angle. Here's an example for you: Valentine's Day. How about the relationship between you and your boss, why you need to love yourself first (life coaches) or tie in with Australia's Healthy Weight Week in February and spin it to be why you should love your body (health and wellness coaches).
Media Callout Services
Look through Sourcebottle or Help a Reporter Out – these are media call out services where journalists and bloggers are looking for talent for their stories. Sign up to their emails and you'll be constantly inspired by the type of stories they're after. (They're interested in THAT?!)
Piggyback off hot news items
Read the publications, watch the shows and listen to the programs you want to get featured in. There are a few things you'll pick up by doing this. 1. You'll see what type of content they're most interested in and ideas you could tap into next time that topic raises its head; and 2. You can find hot news ideas that you can jump on the back of and take the issue a step further with your own opinion or twist. Maybe media are looking for ways to keep running stories on a particular topic when the public are keenly looking for more information.
Find a trend
Trends. Ah, I do love this one. There are different types of trend stories, but one type is doing your own research or putting out a survey and finding out what your audience think about a certain topic. This can then be compiled into a newsworthy story. If you don't have a large enough audience to pull together your own data from a survey, then tap into existing data. Look to Australian Bureau of Statistics, Neilsen Holdings, Roy Morgan Research… Just go to Google and type in "statistics".
Human interest stories
The story behind your business – your `why' – or the people inside your business are always fascinating as human interest stories. We all go into business for a reason. Sometimes that might not seem entirely fascinating to us, but it might be an incredible story to someone else. Likewise, the people within your business (or yourself) have fascinating stories about what you've achieved in life, what you've learnt about life and how you've overcome obstacles.
Solve a problem
Solve a problem is such an easy one for everyone. Every business, whether you're in coaching, consulting, ecommerce, bricks and mortar… you name it, are solving a problem for someone. Even if you sell wall art, you're solving the problem of how to make someone's home look beautiful or how to create a certain style and feel within a home or office. A home magazine might love this for their `office edition'. Think about when the problem you solve comes to the fore and that will give you an even stronger hook for pitching the media. If you're a health coach, you'll have a wealth of knowledge of how to avoid the common cold in winter or lose a few kilos before summer.
Why not combine a few of these PR storytelling styles.
Here's a perfect PR storytelling example: Release a story on how a new air conditioning system sold out within 24 hours during the city's hottest summer on record. This shows the `solve a problem' (how to keep cool), the `trends' (sales data on a new system), `evergreen stories' (summer) + `hot news item' – literally!
Pitching story ideas to the media
So now you have your story idea, you need to pitch it. As I mentioned earlier, you can use a press release or a straight media pitch.
Then you need to know who the right contact is. Just a little tip for you: you don't need to have existing relationships with journalists to get media coverage.
Lastly, ensure you have a plan on what you'll pitch, when and to whom.
To do this, you can grab my free downloadable media plan template that will help you step up your PR efforts.