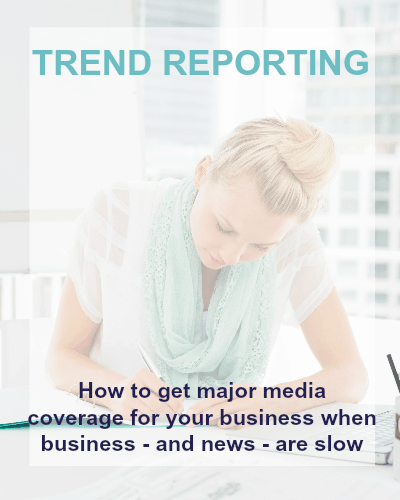 January is traditionally a slow month for business. Many are still on holidays, so often there's little in the way of news.
The upside of this is few are feeding the media stories. That means if you pitch the media during January, your chances of getting coverage are higher. You have less pitches to compete with.
But the problem is: you have no news to tell.
So how do you fix that? Well, it's actually pretty simple really.
If there's nothing happening in YOUR business, make it up. Well, sort of…
Using statistics to sell your business
Finding a Trend is a great way to sell your business. The media view statistics and data as newsworthy and sidebar friendly. Even better is they're perfect to tie into your business, product or service.
You can launch your own survey. Although note: you do need a decent volume of responses for it to hold any weight. Or you can piggyback off survey results from others that relate to your industry.
You can piggyback off other data by reading the financial pages daily. Seriously, those pages are a wealth of ever-changing stories. Stocks go up or down and interest rates fluctuate.
You can search statistics hubs like the Australian Bureau of Statistics or Roy Morgan.
Lastly, you can conduct your own survey. You can have fun with it too. One business used its database to reveal personality traits of different types of coffee drinkers.
My personal experience
Another example was the 2011 Australian Women and Social Media survey my business did in conjunction with another business owner.
We used the simple tool www.surveymonkey.com which, if you ask under 10 questions, is free. Besides, the less questions you ask, the more chance people will take part.
We had 700 people respond to our survey about the social media habits of Australian women. From the survey we were able to compile three press releases using the data to craft different angles. To be honest, we could have come up with 20 different angles for press releases. Instead, we opted for plenty of tailored media pitches.
We pitched some business and marketing publications – online and offline – and ended up being quoted in a mass of publications we didn't even pitch – or have contact with, for that matter. We also fielded enquiries about the survey for months afterwards.
If you're looking to use your own business as the basis for data, you can send the survey out to your customer base, you can send it out to your market or you can pay a research company to do it for you.
What statistics can give you
Statistics can give you endless juicy story hooks the media can't resist. I know, because I've written more than my fair share of stats stories as a journalist.
Statistics stories can also position you as an expert. We tend to give credibility to someone who's been able to find or create relevant data.
Finding a Trend is just one of four techniques in Trend Reporting.
If you want to tap into more evergreen stories for your business, get a copy of the 2018 PR and Marketing News Calendar now.