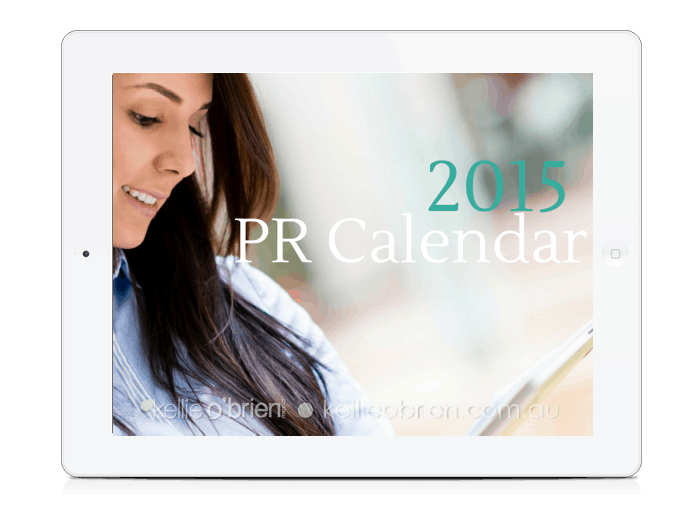 **UPDATE** You can now pre-order your copy of the 2016 PR News Calendar and get the Create Your Own PR Campaign Workshop (valued at $97) completely FREE before December 1, 2015!
Last week was 2015 planning week for me. It feels good to see where I'm heading and to have a plan to follow to get there.
One of the tools I used as part of that process was the new 2015 Public Relations News Calendar. I've always struggled with planning out public relations, blogging and social media content too far in advance because I've always found it difficult to come up with the content ideas.
Early last year I realised there are a stream of evergreen ideas I could be tapping into. So I did.
That resulted in the idea to develop the 2014-15 Public Relations News Calendar.
Last week, after many requests from those in the free Media Mastermind Facebook group, I finally got around to updating it to a full 2015 edition.
How is my planning different this year?
Ah, good question. I look back at how I planned last year and realised it wasn't really planning. There was no substance to what I was planning and it did nothing to give me clarity on where I was going.
It's fine to pick a figure out of the sky and then "hope'' you make it, but unless you have a plan to back it up, not too much of it is going to happen.
I'll admit, I do tend to plan based on the Australian financial year calendar, rather than the start of a new calendar year. It was July 1 this year that I finally put a proper plan – a real plan – into place for my business. Already I'm reaping the benefits of that plan.
The start of the new calendar year is allowing me to refine that and go beyond June 30, 2015.
Everything from my public relations, blogging, guest blogging, social media and product releases all have better structure and purpose and work on clear 90-day cycles.
So who is the 2015 PR Calendar for?
I've written it specifically for solopreneurs – those people in business for themselves or who have a small team and don't have the ability to sit down with a huge department where they can brainstorm ideas.
Having people to bounce ideas off for your marketing can be one of the toughest things about being in business for yourself. Being a solopreneur can be a lonely venture.
If you've ever experienced the difference of brainstorming with others versus brainstorming by yourself, you'll know how much more flows when others have input or start the idea process.
This Calendar is designed so you have some ideas to get your creative juices flowing from the start. Once you read the prompts and evergreen calendar dates, you'll start to easily see how you can be creative in your media pitches and blog post writing.
Why should you use this media planner over other products out there?
I've made this more than just a calendar. You can get one of those anywhere!
It combines a list of evergreen dates that you can tap into. Bare in mind, the dates are based on Australian dates, but all can be adapted to other countries with a quick Google search. It's knowing the events in the first place that's the clincher.
The other part of the Calendar are the story prompts. These will ignite the ideas for you to pitch unique story angles for events journalists have to write about anyway. In many ways, journalists dread some of these stories because they struggle to come up with something fresh each year. They will love that you've served up something unique.
It's these sorts of stories that have journalists wanting to put you in their "little black contact book'' and start chasing YOU for stories – instead of the other way around.
What do you get inside this PR planner?
I've mentioned the calendar itself, the evergreen event dates for an entire year to give you an endless stream of stories to use year-round and the story prompts to inspire you to think outside the box with the way you pitch those stories.
There's also some inspiring quotes for each month to give you a little prod to put yourself out there. After all, it's wonderful to do all this planning, but you have to take action on it for it to have an impact on your bottom line.
Yes, this is one jam-packed eCalendar.
What if we all end up promoting the same thing?
You know, that thought did occur to me back in the 2014-15 edition. But it's interesting, that even people in the same genre are looking at those prompts from an entirely different place. None of us are the same. We all have our own unique spin on our businesses, our products and our programs. We all have our own set of values. We all speak and deliver our message in a unique way. What you see in this PR Calendar, others will likely not see the same way as you.
If you grab a copy before December 30 (which is my birthday!), as a little birthday gift from me I'm also giving you the Create Your Own PR Campaign Workshop, valued at $47. In this training, I walk you through finally creating a unique PR campaign for your business to build your profile and profits.
You don't need to do anything special to get this before then, it will just arrive in your inbox along with your copy of the 2015 Public Relations News Calendar.
So, what are you waiting for? If you want that bonus offer, you MUST pick up a copy of the Calendar BEFORE 12pm AEDT on my birthday.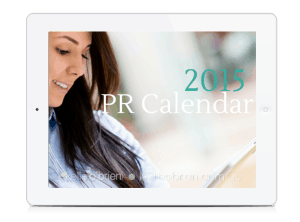 How are you going with planning for 2015?