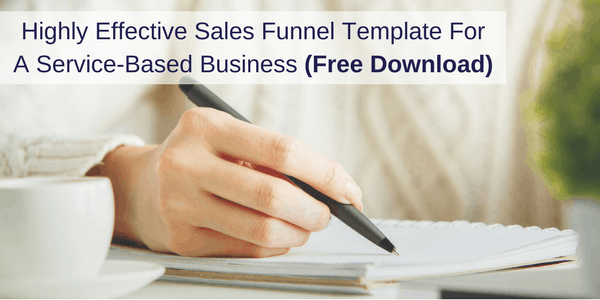 One of the prime motivators for creating the sales funnel template I'll be showing you in a minute, was because the service-based business owners and entrepreneurs I work with were getting overwhelmed by the idea of building a sales funnel. There was also a lot of resistance to the sales funnel because of their experience going through push-based sequences. You know, the ones that make you feel like a used car salesman is chasing you around the car yard!
The message I want to get across today is that building an effective evergreen sales funnel – or soulful client pathway as I like to call them – doesn't have to be complex. Sometimes the most effective client pathways are the simplest, most logical pathways.
You can download a copy of my Sales Funnel Template – or Client Pathway Map – to start creating your pathway.

YES! I Want The Client Pathway Map
Why exactly use a sales funnel
Many people think they simply don't need a sales funnel. Yet you ask them what their repeatable system is for attracting leads and turning those leads into clients and they're often lost for words. Or they mumble something about relying on referrals.
That's not really a system. And, while referrals are an incredibly powerful part of our marketing strategies, unfortunately it's not ideal to rely 100% on these.
What happens if your key referrer goes out of business? Or chooses another provider to refer clients to? Or they move location?
Let's get out of the negative though and into some positive thoughts, like:
It attracts your most aligned clients
It nurtures them and builds a relationship with them – including the know, like and trust – without requiring you to do any ongoing work
It converts these aligned leads into clients for you (depending on how your system is set up, this could be turning them into a sale or automatically getting them onto a sales call with you)
If required, it can invite them into a low-priced offer to allow them to experience your service first, before inviting them to your coaching or consulting service
The whole thing works automatically for you, freeing you up to work on the areas of your business that most light you up.
This is what takes you out of overwhelm and burning out to create a more easeful business.
What's possible with a client pathway?
It's been a familiar story lately – women whose lives get thrown into disarray due to health challenges, school holidays, family arriving to stay or last-minute projects that take them out of working ON their business.
However, the upside to many of these stories has been hearing how their soulful client pathways are allowing them to continue to market their businesses and attract leads and clients without them needing to be present.
I cannot tell you how happy it makes me to hear those stories!
Funnily, this was MY story last month. I was forced to step out of my business to focus on a personal matter. That's another story in itself that I'll share soon.
Anyway, in the midst of this event, I was able to secure a new client.
It highlighted again to me the importance of systemising our businesses to allow for more balance within our professional and personal lives.
My mission this year is to get as many female business owners like you implementing smarter systems and strategies like this in your own business so you can actually enjoy life more. And, in turn, you will also enjoy your business more.
When we become slaves to our business, we start to lose that spark.
We become less productive.
We shift into push energy, rather than soulfully attracting the people we most want to work with.
And we block inspired marketing ideas coming through – those ideas that get us excited and light us up.
If you resonate with any of this and know in your heart you need to implement smarter strategies and systems in your own business NOW, I would love to help you with the first step by giving you my sales funnel template – or Client Pathway template – for free. It's my gift to you.

YES! I Want The Client Pathway Map
What is your customer's journey up the value ladder?
The fanciest funnels in the world mean nothing if you're not leading people down the right path to the right products.
So before you even start crafting a pathway with your sales funnel template, you first need to ask yourself:
Where are you leading people?
What is the customer journey?
To look at the customer journey, we need to focus in on what we call the "value ladder". These are the sales points your ideal client may move through and is where we determine our "lifetime customer value"  – how much one customer can be worth to us over the lifetime of your business.
It's important to understand this to gain greater clarity on your sales funnel and messaging overall.
Not everyone's value ladder will look like this –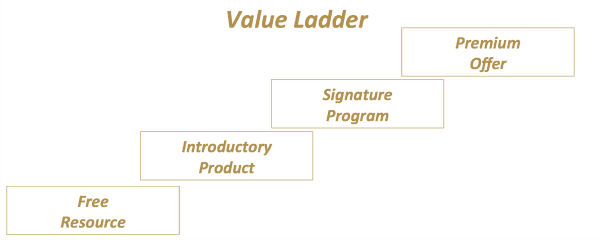 it will depend on where you're driving ideal leads from, who your ideal client is and what they most want/need and the type of niche you're in. Some people's value ladder is a free resource and signature program.
For the PR side of my business, it makes sense to have an introductory product because the majority of the traffic is coming from Google thanks to the SEO on one of my blog posts, which means there's little trust there yet.
Here's what it looks like: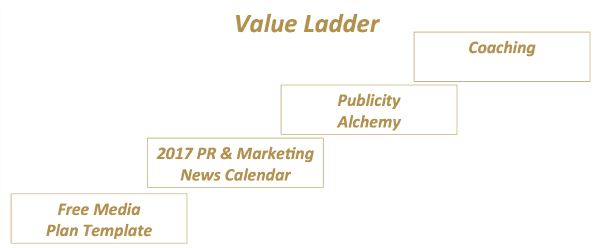 Let's start at the beginning of my value ladder for the PR arm of my business:
It starts with people typing into Google certain keywords around media plan that has then arriving at a blog post that shares how to create their own media plan template.
For the lazy people, which is about 70% of them, I have a blank media plan template they can download. The mistake I made when I first created this download back in 2013 was I didn't ask for their email address – I just gave it to them. So I would encourage you to go back through old blog posts and see where the opportunities are that you missed. I missed out on 1000+ email addresses. It now gets around 400-600 email subscribers per month, so I've more than made up for it.
Through a nurturing email sequence, I then invite them to purchase my low-end 2017 PR and Marketing News Calendar. This is a product I've been selling for 4 years and so I've had the opportunity to refine it. This sequence now sells at a 9% conversion rate. But it wasn't like that in the beginning. It's taken testing and tweaking to improve that. Because of the nature of the product, it also does better earlier in the year than later, so I tend to use discounts (which is not something I highly encourage to use as a tactic all the time). But it's hard to sell it for full price when they're only going to get half a year out of it.
Once they've bought, they then get invited to my signature program Publicity Alchemy, which is the next gap they have – they don't know how to write a press release, pitch the media, perform well in an interview, follow up if a journalist doesn't respond to their pitch and leverage any media coverage they do get.
The last step is my premium 1:1 PR coaching.
Now, the reality is, some people skip the first few steps and go straight to coaching packages – and that's fine too.
As I said, your value ladder is the selling points of your sales funnel. It's like a challis, where you capture the most amount of people at the top of the funnel and then you'll end up with the most highly interested and most aligned people in the bottom of the funnel. They're the people we want more of.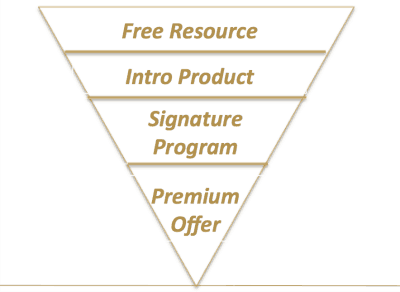 From the value ladder, we move into the Sales Funnel Template – or Client Pathway – and this is the thing I love working on most. Finding the storytelling, the systems and the strategy to make this work in a soulful way in your business.
What does a Client Pathway look like?
That's a big question right there, because few sales funnels that I've created look the same. There is always some modification based on what the goals are, what the type of opt-in is, what the product or service is and who their ideal client is.
As a general guide, this is how a client pathway will look once you've completed it and before you get into any upsells, downsells, self liquidating offers etc. This is where we focus on moving our most aligned clients from discovering who we are on social media or Google search to inviting them to invest with us.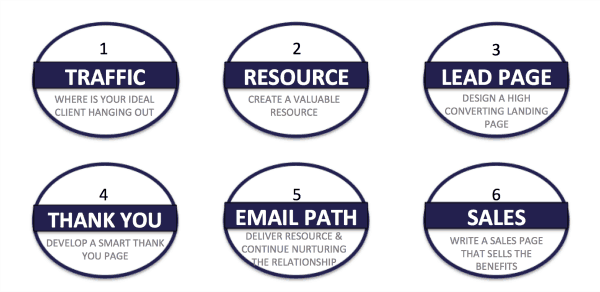 Let's look at each of those more closely:
TRAFFIC
To determine the best platforms to attract people to our website, we need to know who we want to attract.
Once you've defined your ideal client avatar or customer persona, you need to ask "where are they hanging out?" This allows you to determine where is the best places to share your message to attract them.
Here's an example of my ideal client's typical day:


All that gives me clues as to where to find my most aligned clients AND when to find them.
I need to be scheduling Facebook posts at 7am. I need to post again at 2.30pm when she's at school pickup and again when she has the kids to bed at 7pm. I need to be doing a podcast, because I have her undivided attention while she's jogging.
Video, I may find questionable, because she's cooking dinner, she has kids – how invested in what I've produced is she really? She's more worried in getting that bolognese sauce just right.
Now we can better determine what our traffic step in the client pathway is – the part where we're attracting people to us. Read more about evergreen traffic strategies if you're unsure what will work best for you and your sales funnel template.
OPT-IN or FREE RESOURCE
One big mistake I see people make is their free resource isn't in alignment with who they want to attract. Make sure you're appealing to your actual ideal client and not just people in your industry. And ensure you're clear from your value ladder about what you're eventually leading them towards.
Here are some things to think about as you're creating your free gift:
What problem or need does he or she have on a daily basis that your product, program or service can solve? Often, we were our most aligned client five years ago, so it's a matter of dipping back into that time in your life. What was having that problem like? If you have a friend who's your ideal client, ask them.
How do they feel about the problem? How do they WANT to feel? This is your BEFORE and AFTER – this is the transformation that you're providing. As one of my coaches explains it – taking them from pain island to pleasure island and you're the canoe.
What is standing in the way of them creating that solution for themselves? If they're seeking you out, it means they're stuck with something – they can't solve this problem by themselves. What are they stuck with and how do you fit into that picture?
I ask these three questions whether I'm creating something for free or something paid. But when it comes to your opt-in, it's super important to remember:
Solve One Small Problem
You don't want to try and solve all their problems in your one free gift.
Instead of trying to solve that major problem inside one free gift, you need to break it down to a smaller problem but still give them a result.
Here's an example from within my own business:
My ideal client wants to attract more aligned clients to their product or service, but they don't want to spend money on advertising. So public relations and media is an option they identify.
But I can't help them create a PR plan, help with their hook and messaging, give them tips on pitching the media, prepare them for being interviewed by a journalist etc etc in ONE free gift. It's not possible and likely they won't get a result. Which means they'll lose faith in me and what I can deliver.
So I drill down to ONE problem within that to allow them to instantly move forward – which is not knowing how to create a media plan to start with.
How do they feel – overwhelmed and a little bewildered by what a PR plan should even look like. I have a lot of PR professionals download this media plan, so I know it's a problem wider than just newbies.
How do they want to feel – want to be organised with a clear plan that's used by experts.
What's standing in their way – they don't know what it should look like and feel like they're flying blind.
The end result is a media plan template, that in this example is actually also linked to a blog post that helps step them through using the media plan.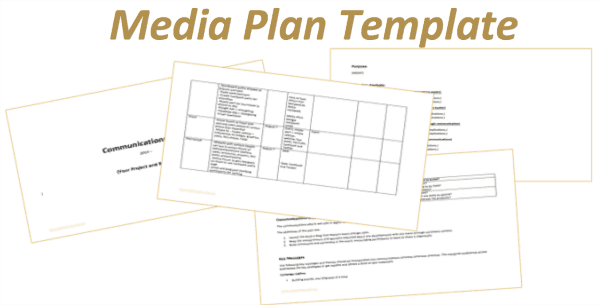 Ask yourself what delivery is going to be most aligned with your clients? If we go back to that typical day, it gives us clues as to whether they like written, audio, video or visual.
There are so many great free gift ideas and endless arguments on what you should use.
One school of thought is you need something long (ebook or video series) because the more time they invest in your free thing, the more they'll likely to invest in you at a higher price point.
Another school of thought is you need to make it quick – one page PDF – so they can get a quick result, gain quick trust in you and then be more willing to buy sooner. I'm not one for rules, so test what works best for you.
I give you a host of ideas and examples of high-converting lead magnets suited particularly to your business inside The Online Marketing Mastermind starting February 2018, but some ideas to get you started are:
ebook or chapter from ebook
3-part video series
PDF cheat sheet, checklist or template
Audio interview with an expert
Quizzes or surveys
Email challenge – 5-day challenge
Learn more about opt-in types if you're unclear on what will work best for you and add to your sales funnel template.
I'd encourage you to use what you already have. As entrepreneurs we can be voracious in our creation abilities and have virtual shelves full of STUFF we've created that only saw the light of day once. Use that as a freebie and save yourself some time.
Or maybe you have a great tool you're always using with clients you know they love.
However, also think about:
How does it tie into my customer journey – does my introductory product make the most sense as the next step
Am I attracting the right people – an example might be a toolkit of photography programs, resources and checklists when the business is a photographer who actually wants to be hired for wedding photography. This would be out of alignment, because it would just attract a bunch of other photographers. However, if it's to get photographers to buy into a new photography program, then it's perfect. So be strategic.
LANDING PAGE
Now you have your gift created, you need to set up your leadpage – that is, the page that will capture their email address. You may also hear it called a squeeze page or landing page. All are the same thing.
Early on in my business, I made the huge mistake of not using a leadpage to capture people's email addresses to grow my list on that media plan and lost out on a thousand people that I'll never be able to get back again.
Your leadpage needs to be an uncluttered, simple page with an opt-in form on it. No sidebars, no menus, no distractions that send them somewhere else.
Your homepage may have an opt-in box on it, but it's not a landing page. Not that having an opt-in page on your homepage is a bad thing. You just wouldn't spend money to drive traffic there for the purpose of growing your email list.
Step 1: Headline
Step 2: Description
Step 3: Three benefits
Step 4: Image
Step 5: Call to Action
Spend some time on this, because it's key to getting them over the first fence. You can't invite them to work with you if you don't get their email address.
This is the place to experiment as well. What I've discovered is that different free resources and audiences require different levels of information. Cold traffic (ie people that don't know you, like targeting someone else's Facebook page) are going to need a little more persuasion and storytelling to get them to give you their email address.
On the other hand, I know that 90% of the people who come to the media plan template have already read my blog post, so I can be super basic with a headline, image and opt-in button on the leadpage.
Here's a leadpage that hits the middle ground: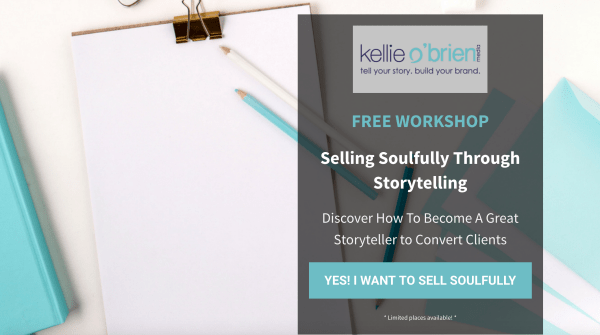 ​Make sure to capture all your inspiration in your sales funnel template.
THANK YOU PAGE
This is one of those hugely overlooked pages. There is a huge opportunity here to keep building the relationship with people once they've opted in for your thing.
Once upon a time, I would just have a "thanks for opt-ing in. Check your inbox"
But you can do so much more on that page.
Get creative! Here are a few ideas…..
Join your Facebook group or your Facebook page
Having the opt-in shared on social media – a great way to increase your reach… for free!
Send them to a live or recorded webinar or a video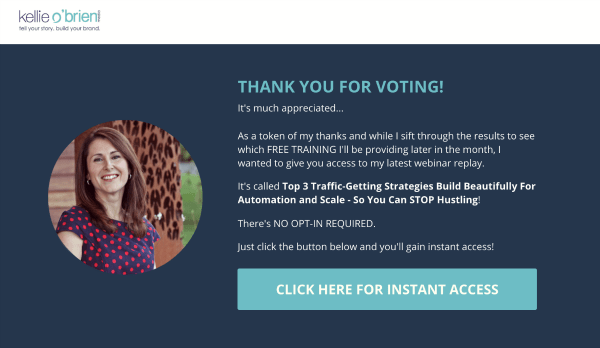 Access to membership trials
A self liquidating offer (more on that in another blog post soon)
Discovery call invitation for high-paid programs…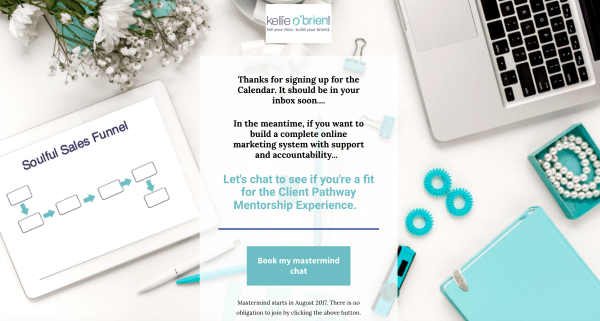 NURTURE EMAIL SEQUENCE
You want to continue building a relationship with your ideal client. So many people put effort into attracting traffic to an opt-in, get people to sign up, send a welcome email and then….. nothing. Or a weekly newsletter.
Take them on a pathway that will lead them to say "yes" to your first offer in your value ladder. To do this, we can use the ACCESS email pathway. It stands for:
A – Aspiration or Problem through delivering the free gift we promised on the leadpage
C – Cause or Why
C – Current belief system
E – Endorsement through a case study
S – Sales email 1
S – Sales email 2
Inside The Online Marketing Mastermind I give you exactly what each of those emails needs to say, what it needs to achieve, and strategic storytelling triggers to help people say YES to your paid offer.
SALES INVITATION
If you've put the effort in upfront to determine what it is you're selling and how it benefits the people you're selling it to, then often this step can make all the steps prior much easier for you to do.
In fact, I often START with the sales page so I can then reverse engineer everything back through to the type of traffic I need to attract for a given free resources and eventual product.
When it comes to your product – whether that's a service, a coaching package, a digital product, or a program – you want to:
Hone in on the problem your ideal client has. Pinpoint a situation they often find themselves in and, if you can, paint a picture of that scene
Define the solution you can offer them through your product
Design your signature process or system. This is a repeatable process, system or framework you know can lead people to solving their problem or achieving their goals.
Understand your unique selling proposition when it comes to your product. How do you differ from the rest of the market? Why would people choose YOU over someone else?
Other things to consider are the price point, payment plan options, naming it and additional resources or bonuses you can offer to enhance the core offer.
When you know all this, you can wrap it in storytelling and confidently invite people to work with you.
Sales Funnel Template final words
Once you have this basic sales funnel template complete and set up – and only once it's complete and set up – then you can move into more advanced funnelling that include upsells, crosssells, downsells, self liquidating offers, one time offers… and more!
I'll share more on how to move into this area soon or you can join me in The Online Marketing Mastermind to set this up in your own business.
Lastly, once it's set up, it's done. Your job really from there is to test and measure to improve your results.
You want to look at:
what your opt-in conversion rate is – how many people are landing on your landing page and how many are actually signing up
how many people are actually then downloading it
which emails are people opening and clicking – can you change a headline to improve an open rate or change a call to action in the email to get them to click.
What can you do to improve sales at the end of the funnel..
But really, set it up once, and you're systemising your business so you can focus on what you do best.
Start creating your soulful client pathway with the sales funnel template.
​Download

the sales funnel template NOW!

YES! I Want The Client Pathway Map