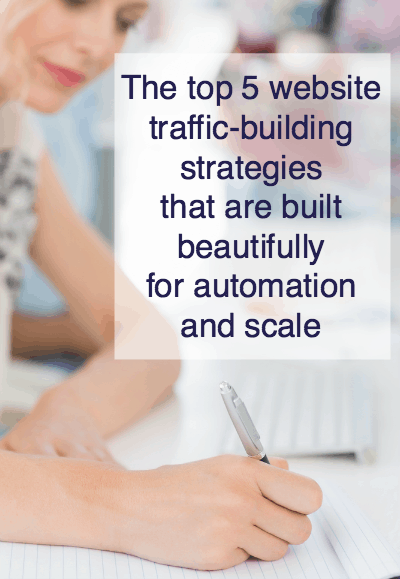 When I asked you, my audience, the No. 1 challenge you face when marketing your business, the answer was attracting traffic to your website, your free opt-in and your sales pages.
Now there are two things to add here:
Some people don't have a traffic problem, they have a conversion problem.
That is, they're not converting enough of that traffic into email subscribers and, in turn, convert those subscribers into sales. But that's a post for another day.
It's not just about more traffic, it's about the right traffic
Your goal is to attract traffic that is highly targeted and relevant to what you have to offer. There is little point attracting 10,000 college students to read your blog post about starting a business for over 40s.
Which brings me to the most important point of this whole post: Before you even dive into the three strategies I'm going to share, I want you to be clear on WHO your most aligned client is and WHERE they're hanging out. If you haven't done any work on this before, I highly recommend you find someone who can help you.
If your ideal client isn't on any of the 5 platforms I'm about to share with you, then it's not a smart option to be spending time here.
The reason is that, while these strategies might help build automated traffic, they're not strategies that take a small amount of effort. You need to be committed to implement them. And you need a smart strategy built around each.
This is what I work on with my clients, what I've implemented in my own business and what I know has worked wonders to build businesses.
But, my guess is that at least ONE of these platforms is where your ideal client is hanging out and will be a good fit for your business and its goals. And with that, you can create a system that will automatically send you traffic.
It's good to supplement it with other traffic strategies that can bring in quick returns, but this is how you can create a piece of content and have it work for you for years. In some of the cases below it's a slower process, but can build a far bigger and more engaged audience than the quick way. And that's really what we're after.
From there, it's about creating a pathway that automatically nurtures and converts subscribers for a steady stream of new clients. That's what I like to call a "Client Pathway" – aka a soulful sales funnel.
I have ONE client pathway that attracts 400 email subscribers a month and a steady flow of sales – and you'll be surprised at how simple it is.

CLICK TO DOWNLOAD YOUR FREE CLIENT PATHWAY MAP
So let's begin, shall we?
1 Blogging using SEO strategies
Some of you may know my story about the blog post that gets automated traffic from Google every single day. That traffic turns into about 400 email subscribers a month. I created one blog post and it now works for me.
This is not the only post that does this – although, it is by far the most successful piece I have. The beauty of this strategy is that all the smaller channels of traffic coming through add up to one big consistent flow of traffic. So never be disheartened if you end up with a blog post that gets you 10 clicks each week. If 10 people are consistently coming through each month, it adds up to 520 a year. How many extra email subscribers and sales a year could that mean?
Here's how you can achieve similar to what I've achieved in mine and others' businesses:
Solve a problem for your ideal client
It's important to really understand what it is your ideal client wants and needs. If you have heard the saying: Sell them what they want, give them what they need, you'll know there's a difference between the two. It's important to know what this is.
To identify exactly what my market needs, I'm rolling out a four-part survey process to really define who my audience is and what they REALLY want. This is step 1, if you want to follow that process. There will be follow up steps once I'm happy with how many fill out this first step.
Use keywords strategically throughout your blog posts
What do I mean by "throughout" your blog posts? Without rewriting a whole blog post about SEO (you can find my SEO blog post instead here), you should concentrate on including your keywords (that is, the terms your ideal client searches for in Google) in your headlines, opening paragraphs, images etc.
Make sure you put effort into coming up with keywords and a topic that are going to be of high interest to your audience. And potentially one that will get shared widely.
There are many tools you can use, but start with Google Trends and BuzzSumo. Another tool that's worth trying is Seed Keyword – this can give you the exact terms your ideal client is using. You can try out a Seed Keywords scenario I've set up here.
Write longer content
The faces of my clients usually resemble a deer caught in headlines when I suggest this. After all, they're battling to get out one blog post a week, as suggested to them by some big guru with a content marketing team behind them. How on earth could they now write longer content? And really, who reads all that stuff?
Well, my first point would be that you're reading this right now – and it's long content. The other point is that instead of writing a blog post a week (or if you're writing more than that), combine those posts into one mega post and save yourself the time of having to upload new content to your blog every single week. That time can be invested in creating more quality content.
Right now, Google loves long content. It loves content that keeps people on your site longer, which signifies it's quality and should be ranked higher in the search. You'll see a lot of long content on this blog.
Now, here's two issues my clients have with this idea:
Client 1: The owner or members of the team begin to write like academics when they hear they have to produce long content. Realms of academic speak is definitely not what we want. We want easily read content, that's delivered in a conversational tone. Doesn't this blog post feel like we're having a conversation – rather than me telling you from an academic viewpoint what works and what doesn't? Break it down into bite-sized chunks and suddenly it becomes a lot easier to write too.
Client 2: Her ideal client is a busy mum with a newborn who just doesn't have time to read all that. The way to overcome this is to make it scannable. Again, take a look at this post. If you skim read the headlines right now, maybe only one of them appeals to you (because you read the bit at the top of the post that said only concentrate on the one where your ideal client is hanging out). So you may only end up reading ONE of the steps. And that's perfectly OK by me. As long as you get something from the post. Because, the reality is, the next person who reads it might be drawn to something else within this post.
Come up with an engaging headline
You know, the thing is, if you can't get people to click on your Facebook post, tweet or link in your email newsletter, then this blog post fails before it even begins. The way to overcome that is to have a great headline – which obviously also ties into having a great call to action.
Now I have a myriad of tools I can give you to create some great headlines for your blog posts. Here are just a couple of my faves:
Highly clickable blog post headlines
Portent's Blog Generator
CoSchedule's Headline Analyser
Ensure it's shared widely
What does this have to do with your blog post and building automated traffic? When it comes to getting ranked in Google, there is something like 200 factors to take into consideration. That's a lot to be across. But if we focus on just a few of those – one being keywords as above – we can help increase our chances.
Another is how many social shares it has. Social shares can also then lead to possible backlinks (other people linking to your content), which is yet another one of those 200 factors. Ensure you have a strong social media strategy around each piece of content that you produce. A good way to look at blogging is that 20% of your time is spent creating the content and 80% of your time is spent promoting it.
A great way to see how you're ranking in terms of social media shares against others using the same keyword is to check BuzzSumo – one of my favourite SEO tools. Type in your keyword and see where you rank.
Update old blog posts
If you're wondering how you're going to have time for all the above and you know you want to get a quick surge of traffic now, but also have something that will create longevity for your business, then look to your old blog posts.
Discover which of your posts are ranking on page 2 or 3 that could use a refresh to meet the current market and allow it to rank higher in Google again. You can follow all of the steps above to help that piece of content rank higher. It may seem the lazy man's way, but it can be highly effective. And is a much smarter use of your time.
And how do you find out which pieces of content you should be focusing on? There's a few steps you can take, but one of the sources you can try is SEMRush. This is a great tool to show you what blog posts are increasing and decreasing in ranking in Google. And what keywords you're already ranking for.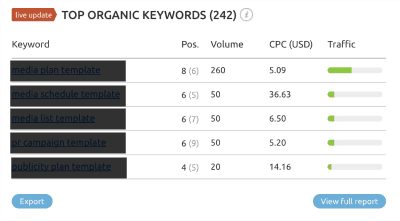 Ensure it has a high quality image in it
We'll get to this in the next strategy and how you can use high quality images to drive traffic to Pinterest, but for now take a look at the images you have in your blog posts. Are they on brand? Are they images people would want to share – by that, I mean do they have a text overlay that would make them highly shareable? That text only needs to be the headline of your post. People want to share good quality content, but also visually pleasing content to their social media platforms, so take a little effort here.
My three favourite tools for creating beautiful images are:
– Picmonkey
– Canva
– Wordswag
For "pinworthy" images, Canva has a dedicated Pinterest template: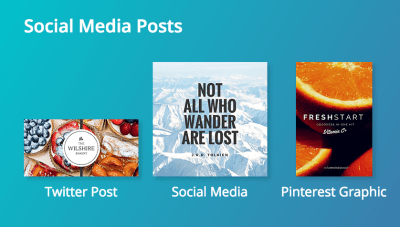 Ensure you have social share buttons through the post
You can do this with social share icons on each individual post. I have all the main social media platforms visible, plus Bufferapp, which is my social scheduling tool of choice.
You can also add a Pin It button to your images. More on Pinterest next, but for the meantime, hover over this image and you'll see the Pinterest "Save" button appear in the left hand corner.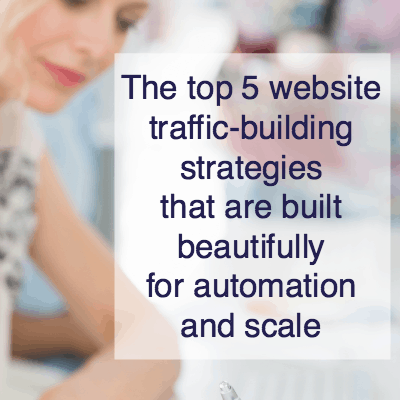 Lastly, embed Click To Tweets within your posts. There are different Click To Tweet plugins you can use, most of which are paid tools. I actually use the free site, create the link and then create an image to link to for greater flexibility and to avoid having to add yet another paid tool to my arsenal. Although, the downside is that it requires a little more effort.

I'm a bit picky about which marketing and business tools I'll invest in and which I'll use the free plan for.
TIP:
AUTOMATION: Take the time to write a quality post from the start, so one piece of content can keep giving back.
SCALE: Ensure you share your content widely to increase the ranking of the post in Google. Plus, make the effort to create internal links between your own content.
2 Pinterest
Did you know that Pinterest works as a powerful SEO tool? The keywords you use in your boards and Pins on Pinterest are not only searchable in Pinterest, but also Google.
That's part one of the automation.
Part two is that, unlike Facebook and Twitter where a status and a tweet can last only hours – or even seconds…, with Pinterest, once it's pinned to other people's boards, it can be rediscovered years into the future and continually repinned.
I did a whole free 5 day challenge around this last week.
Here's a little of what participants learnt during the course of the 5 days:
The importance of converting your Pinterest account into a business account and using smart keywords in your bio to help your account get found
Ensure you use keywords in your Pinterest board titles and in your pin descriptions
How to get around the new Pinterest Smart Feed if you're not getting found in the newsfeed
How to create pinworthy images
A secret pinners code that can allow you to get double the traffic to ONE blog post
How to increase your followers on Pinterest
You can learn more about the 5-Day Pinterest Challenge and sign up for the evergreen version.
TIP:
AUTOMATION: Use keyword-rich descriptions on your pins to be found on search, and so others can repin your pin and their followers can discover your pin long into the future.
SCALE: Use the secret pinners code to get double the traffic to the one blog post
3 Amazon
I can only vouch for clients who I've helped do this – and hopefully I can retell this story later in the year and include myself – but having an ebook on Amazon can bring you traffic and leads on autopilot.
Amazon has become its own search engine. While your ebook page may not exactly direct traffic to your site, those most interested will take a look at the free first 15% of the book – which is where you have the opportunity to put a link to your landing page for your free opt-in.
I helped one of my clients add 25% more people to her program through using a Kindle ebook and significantly increased her email list.
Now, I'll be completely open and honest and add that it really stems from how well you do the initial launch of the ebook on Amazon as to how it might play out long term, but put together a smart strategy and this can be well worth it. As my client found out.
What could it do for your business?
TIP
AUTOMATION: Ensure you have a link to your free opt-in or a quality piece of content in the first 15% of the book, so it won't matter whether someone buys your book or not. Although, of course, that would be nice.
SCALE: Plan for a strong launch of your ebook on Amazon to enable it to be well positioned in your categories and be seen by more people. Once it begins to slide, look at a promotional strategy to increase its positioning again.
4 Wisestamp
You're probably wondering how this is an automated traffic building strategy. Well, take a look at my signature in the emails I send out from my gmail account.

Without me ever having to touch anything, my latest blog post appears as part of my signature. That link attracts clicks without any further effort – other than writing the blog post – each day.
Think about how many people you email every day. Who are those people? Chances are, a portion of them are going to be interested in the content you're putting out. Make the most of that opportunity to turn a casual person into a reader and subscriber.
TIP
AUTOMATION: Add Wisestamp to your main email account and set it up correctly from the start so it automatically updates your signature to include your latest blog post.
SCALE: Send more emails to people you want to connect with!
5 Facebook Ads
If you've ever done Facebook ads and you're wondering how that equates to being evergreen, hear me out. Just like I talk about creating a marketing funnel – or client pathway – that moves people from discovering who you are online through to investing in you, you can create the exact same system in Facebook.
What happens is, people will see your initial Facebook ad inviting them to a piece of content or a free resource to join your email list. From there, depending on the steps they take, they will be transferred to the next Facebook ad in the line, and won't see the old one. This can work on autopilot for you. Of course, I'd highly recommend you still keep an eye on your analytics and spend.
But for the most part, this can be a beautiful system to implement in your business.
Here's an example of a rather simple Facebook ad funnel using retargeting pixels:
STEP 1: A specific target audience is invited to read my blog post about creating a free media plan template and also offered the opportunity within the blog post to get a template already done for them by opting into my email list
STEP 2: If they didn't opt in – for whatever reason – I invite them directly to the page to opt in.
STEP 3: Those who successfully download the PR plan are invited to purchase my 2016 PR News Calendar
STEP 4: Those who successfully purchase the 2016 PR News Calendar are invited to purchase the 5-week Publicity Alchemy course.
Each part of the Facebook ad funnel takes them a step further down the client pathway.
TIP
AUTOMATION: Create a really clear plan of what your Facebook ad pathway will look like, so you know when and how people will see your Facebook ad and when and how it should be stopped.
SCALE: Invest more money into your Facebook ad campaign to allow you to scale once you've seen the conversions coming through at each point.
If you need help at all with implementing any of the above, don't hesitate to reach out.
What's next?
Now, I pointed out at the beginning that often people don't have a traffic problem. They have a conversion problem.
Which brings me to the final point. The above means diddly squat if we don't actually have a system in place that can capture people's email address to add them to our email list.
Don't just throw up any ol' opt-in that you already. Think about what is going to entice your readers to exchange their email address for your free gift? How can you solve their problem? How can that free opt-in then lead them to want to work with you – that's the real key.
If you'd like to learn more about how this can look in your business, download a copy of the Client Pathway Map – my soulful sales funnel.
Grab your copy here:>>

CLICK TO DOWNLOAD YOUR FREE CLIENT PATHWAY MAP
*Please note, some links in this post are referral links. This means if you choose to do business with that company, I may receive a commission in the future. This doesn't impact how much you pay.