SEO? What's that, you ask? I'm far from being an SEO expert. I don't spent a lot of time on search engine optimisation, but I have seen the results of it.
The reason you should care is so you rank higher than your competitors. For example, if I were moving from Melbourne, Victoria to Devonport, Tasmania and was after childcare but had no friends or family to ask for a recommendation, then I'd Google "Devonport childcare centre''.
For some reason, our mind tells us the first two or three centres at the top of Google must be the most credible. Of course, this is absolute bollocks. It all comes down to whether they have a blog on their website, how often they update that blog, how well they use keywords, their social media engagement and how many people have linked to their site from their own sites.
Let's pretend we have a Ballarat hair salon and want our blog to rank well for hairdressing. The idea is to create content on your blog with hair tips for families, so you become an industry expert in your field and to build trust with your potential and existing clientele. So:
1. Think about what words and terms you would search for in Google to find yourself. "hairdresser", "stylist", "Ballarat hairdresser", "your name'', "family budget hair cuts", "how to do a girl's hair'', "up dos for children'', "best hair styles for boys'', "latest hair colours for women'' etc. Look to these to help you create blog content.

2. Another tip is to put some of those words and terms into Google. Type in " hairstyles for…'' and see what the most asked questions are by Google users. It will also give you a look at your competition.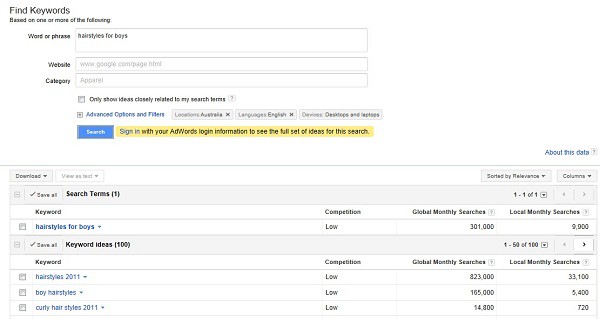 3. Put some of those words and phrases into Google Adwords. This will give you a guide as to how popular those terms are (searches globally or nationally per month), how much competition they have (Low, Medium or High) and give you alternative keywords. As you can see "hairstyles for boys'' has low competition (a good thing!) and gets 9900 searches nationally each month. (NOTE: The Google Adwords Keyword Planner looks slightly different to this. I'll look to do some more training on this soon. My other platform of choice is Google Trends, because I can compare different keywords.)
4. You could use "What are the best hairstyles for boys?'' as the title of your post.
5. Incorporate those words into the intro of your post. Bold those keywords if you want to, which Google loves!
6. Use words like "best hairstyles for boys'' and "short hairstyles'' in your All In One SEO plugin, which you will need to install (see the post on plugins).
7. Mark it as "boys hairstyles'' in your categories and include tags like "boys hair styles'', "2012 hairstyles'', "male hairstyles'' and "budget hairstyles''.
Some other tips for helping your SEO include:

Linking to content within your own blog (try and do this for every post you write).
Comment on others' blogs so they will then come and seek out your content and reciprocate with a comment. Search engines view posts with comments as being valuable content.
Have your site appear on others' sites. It's a good idea to look at doing guest posts for other bloggers.
Promote your posts on social media. The more people liking, sharing and commenting on your posts on social media the better it is for search engines. They see that you have valuable content.
Blog at least once a week, so you're providing Google with new content to index.
DO NOT copy and paste content from other sites. Google will penalise you for it. More on Google Page Ranks later.
As I said, I'm no SEO expert and don't even pretend to keep up with the constant changes. However, I hope these basic tips will help you to get your site ranking better so people find you via Google and other search engines.
What other SEO tips do you have?
FREE COURSE
Click the image below to learn how to make money from blogging in this 7-day mini course

Image courtesy of Michal Marcol / FreeDigitalPhotos.net