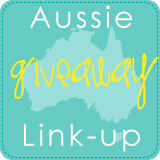 For those of you who were only introduced to the Aussie Giveaway Linkup last week and aren't quite sure what on earth it's all about, I thought I'd spend this week introducing you to each other.
If you've been a `linker' for a while now, well, you know what to do.
How did it start?
It was started about two years ago by the lovely Tina Gray and myself. It ran on my Three Li'l Princesses blog and Tina's Tina Gray blog. The aim was to try and give some exposure to bloggers' giveaways.
Each week (Sunday mornings to be precise – can't remember whose idea that one was!), bloggers would link up their giveaways and then readers of our entire network would come read and enter the giveaways.
How it can benefit you
The linky has grown significantly over those two years. I remember in the early days getting three or four links – and being super excited. These days, especially Christmas, Easter and Mother's Day, it can get up to 50 and 60 giveaways linked up.
Likewise, often during these periods traffic is quite high to those giveaways as well. (Just a tip, those who link up first tend to get the most amount of traffic).
So if you're running a giveaway on your site or on Facebook and want to draw some more traffic to it and garner some more entries, then make sure to visit each Monday, link up by following the directions below and watch the traffic come in!
If you want to know when it goes live, make sure to follow the Kellie O'Brien Media Facebook page.
Oh, and by the way…
This linky has always been my chance for a little humour, so expect a fair bit of that!
Aussie Giveaway Linkup instructions:
If you're a blogger or business wanting to take part in the Aussie Giveaway Linkup:
Only link directly to the giveaway post/s and include the prize and end date in the linky tool below. Link each giveaway separately. If you need to delete it, hover over your link, wait until the red "x'' appears and click.
Giveaways must be open to Australian residents and be run by Australian-based bloggers or businesses.
Grab the NEW button below to add to your post.
A new list is added each Monday so bloggers and business owners need to add their links weekly.
Start entering the giveaways! Entry is at your own risk. We do not take responsibility for unfulfilled prizes or a blogger/business not abiding by their own terms and conditions.

Hosted by Kellie O'Brien Media