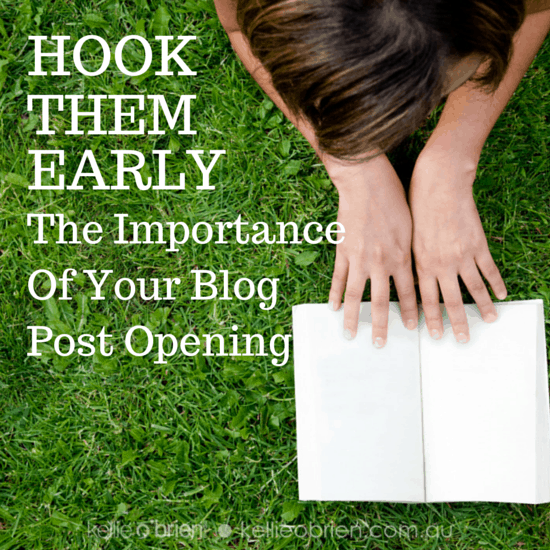 Ever thought about a comedian and how their entire performance can die with that opening joke? Or a movie that fails to hook its audience in the first scene, so they tune off and never get to the great plot twists and tear-jerker closing scene?
It's the same with writing a blog post introduction or headline.
If you can't hook your audience to want to read more of your blog, then your blog post just failed. Forget that awesome call to action at the end.
The way to look at a hook is to ask "so what''. Why should they care?
Take a boring business anniversary story.
It's fine that your business has just celebrated five years, but why should your ideal client care about that? In most cases, they won't – unless you're giving something away or sharing your inspiring story of how you got where you are now.
I thought I'd share some ideas for opening your next business blog post to grab your reader.
Start with a story
We are all won over by stories. Tell a story that your ideal client can relate to and you'll lure them in to read more.
Make a bold claim
It's hard not to want to keep reading to find out exactly why the person has such an outrageous opinion on a topic you're passionate about. So you keep reading…
Be controversial
There's something that attracts us to people who like to put themselves out there and rock the boat a little – whether we like them or not.
Open with a quote
It's funny, but as a journalist I was always told that opening a story with a quote was a lazy way to write. When you blog, there are no rules – so quote away!
Start with the problem
When your ideal client reads how you've just identified their problem, then they just HAVE to keep reading to find out how they can solve it.
Share a statistic
We're drawn to numbers for some silly reason – someone compared it to our eyes being drawn to contrasting colours. And we get all caught up in statistics and trends. I'm not sure what it is about them we love, but they work!
Ask a question
Did you see what I did with this post? Questions are a great way to make people keep reading so they can find out the answers – kind of like the start with a problem hook really.
The crux of this post really is to be creative with your introduction. You need to hook them from the first line and MAKE them want to keep reading.
Tell me, what's the hook for your next blog post?
Want to learn how to take all these blog writing tips and turn them into money? Then sign up for my 7-Day Make Money Blogging Mini Course to learn how to help your blog become the engine room of your business.