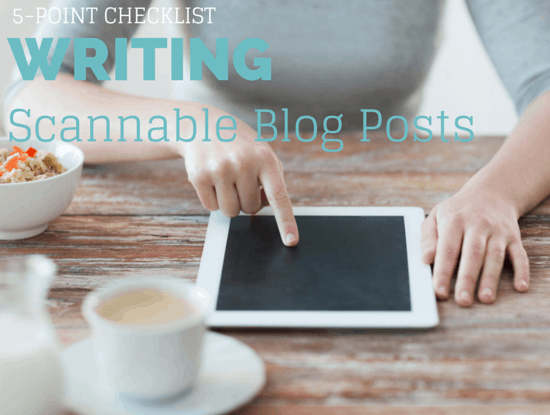 My eyes tend to pop out of my head like a cartoon characters when I'm confronted with a blog post that's a big slab of grey text.
While I'm more than happy to sit down with a good physical book (or even a Kindle book) to read such text, I find it hurts my eyes to read blog posts and web pages like this.
What about you?
I think it's really important to make your blog posts scannable as much as possible. Online readers tend to be rather lazy readers.
Yes, sure, there are some who write rather lengthy blog posts, but you can bet the vast majority of those are still scannable, right?
Research also shows a large portion of online readers scan rather than read. So bear this in mind when you write your next post.
I thought I'd share a little checklist for when you come to write your next blog post.
Aim for short paragraphs
Lots of white space on the screen will help. What you were taught in English class about having paragraphs do certain things in your content doesn't apply here!
Use clear and concise subheads
This is really one of the greatest ways to help with scannability. I love how Copyblogger actually encourages its readers to write the headline first, then the subheads and THEN the copy. Subheads can be use as part of lists posts or to break up larger sections of copy.
The power of list posts
Speaking of lists posts… You've seen these so regularly, but list posts are really easy to write – and even easier to read. It's no wonder that list posts are the most shared content on the web. Use numbers, subheads or bullet points to create your list posts.
Images add more than just colour
Contrast any heavy text with a good image – which has the added benefit of helping with SEO. Derek Halpern talks about how people prefer fewer characters per line, so a half-width image in the blog post opening paragraph shortens the line length of the intro to entice more people to START reading. I don't use this method, but it's worth testing.
Make use of formatting for visual and voice
Kat Loterzo uses formatting well in her blog posts. It really helps you hear how she speaks. This can include bolding words, using CAPS, …dots, – long dashes, italics, one word sentences, long sentences – think about pacing as you write.
Before you press publish on your next blog post, I want you to start from the top and just read the highlighted pieces and see if it still makes sense.
If it does, you're ready to go!