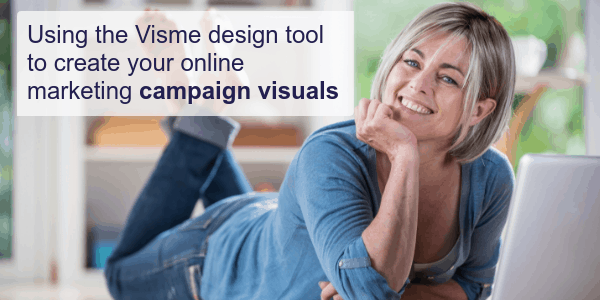 Design has never been my forte, just ask my brand strategist Darla Kirchner. If there's a beautiful template to work from, I can produce something half decent. However, the volume of tools out there at the moment to allow you to create professional-looking design work for your blog, social media and emails is increasing and allows us to produce better quality online marketing material.
Not all of them are perfect though.
With Photoshop beyond me, Picmonkey and Canva have been my go-to tools to create designs. Each has its advantages and disadvantages. I've particularly loved Picmonkey's retouching tool allowing me to look 10 years younger and Canva's incredible array of templates making designing simple across different platforms.
Now, a new online tool has emerged – Visme.
Visme Design Tool 
Visme is an easy-to-use Photoshop alternative for non-designers like me. But it has features many of the others lack.
I decided to put Visme to the test to see how well it performed in producing the entire collateral for my current marketing campaign. The campaign includes a webinar for 3 Online Marketing Keys To Implement Immediately For 2018 Success and launching of The Online Marketing Mastermind for 2018.
Before we start, I do want to say there are certain things I won't design and will leave to my designer. The last thing I want is graphic designers going out of business. However, there are tasks you can do internally to achieve a quicker turnaround and are easy for you to tackle yourself once you have clear branding and templates set up.
Webinar Presentation Slides
Where do you start when you want to create a campaign? Usually, it's to build or grow your email list through providing a free resource.
I've decided to create a free online workshop called 3 Online Marketing Keys To Implement Immediately For 2018 Success, as I mentioned before. But you could use this same section to create PDF resources.
My go-to for slide creation has always been PowerPoint, because a template I designed years ago still receives a lot of positive feedback. However, after delving into the presentation templates I'm thinking beyond what I normally create.
One template in particular suited my branding style and enabled me to change this slide from this: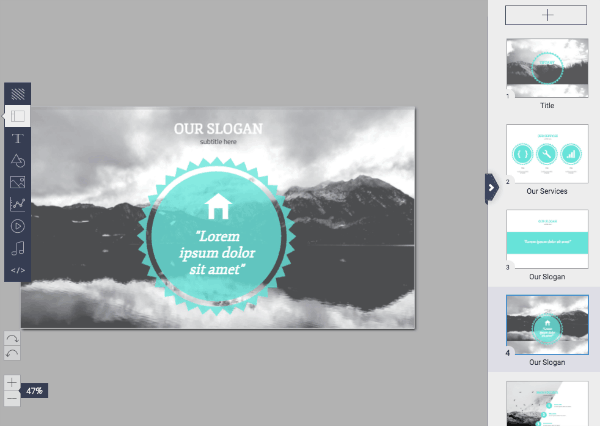 To this: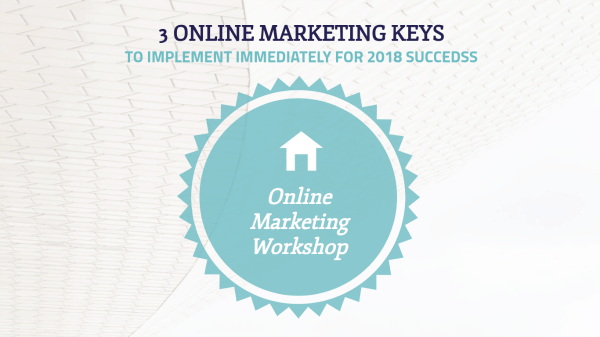 in a mere few steps.
But that's not really why I love the presentation section.
You see, you can also bring your presentations to life with interactivity and animation. You can:
Embed a video to play during the presentation,
Add audio if you want your viewers to listen in to a key speech or
Create fly-in text to highlight something
– the possibilities are endless.
Landing Pages 
Once you have your free gift or resource completed, you need to capture names and email addresses.
Now, Visme doesn't have a "landing page" section and isn't designed to be a landing page software. However, with a bit of creativity it's easily achieved. If you're in a situation where landing page software is out of reach or your website doesn't allow you to create designs easily, then where Visme differs is having the opportunity to publish your work and grab a link to share OR embed the opt-in page into your website. You can insert a button that links to your email service provider's opt-in form to ensure you're capturing names and emails.
I'll admit, I haven't played with this due to already having a system. However, there is huge  potential here. Inside the page you can also embed videos and music, along with animated features as mentioned before.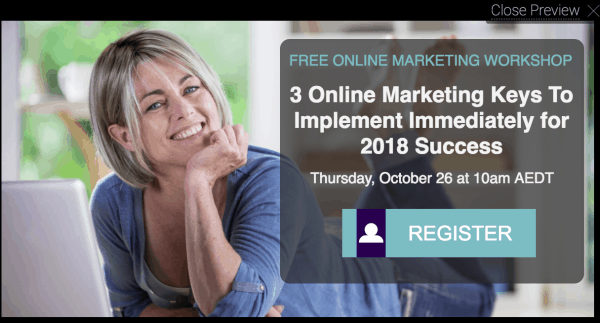 One of the other bonuses is that it comes with analytics – so you'll be able to see how many people visit the page, the activity on the page and where people have come from.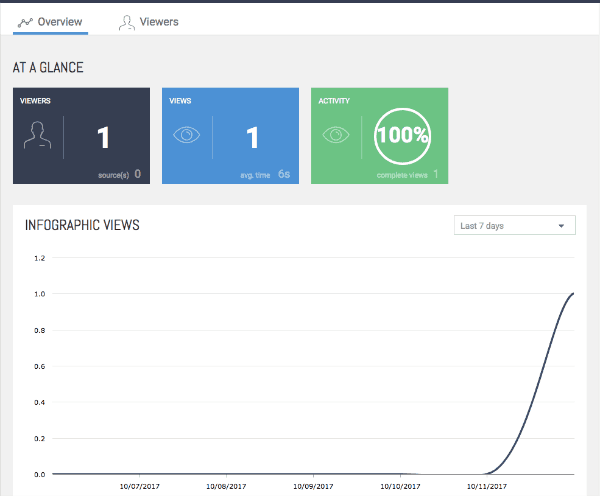 Organic Social Media Content
Once your system is setup with a landing page, a thank you page (which you could also create in Visme if needed) and your free gift to deliver via email, you need to start marketing.
The first element of my campaign is social media content and Visme has every social platform covered. In fact, the challenge is where to start.
To promote the webinar, I first created social media post images using an image that matched the one on my landing page. I then scheduled the images, along with social media post copy, to Facebook Twitter, LinkedIn and Google+.
There are many template options: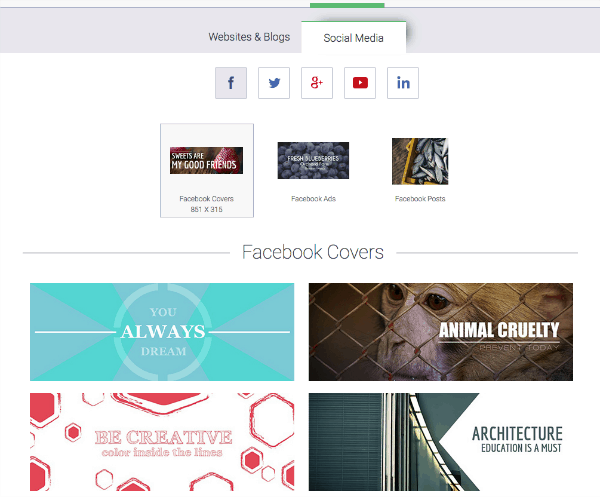 I was able to quickly create a Facebook banner image.

Along with a standard image to share across different platforms. Although, there are individual sizes for each platform if you wish.
This was the end product.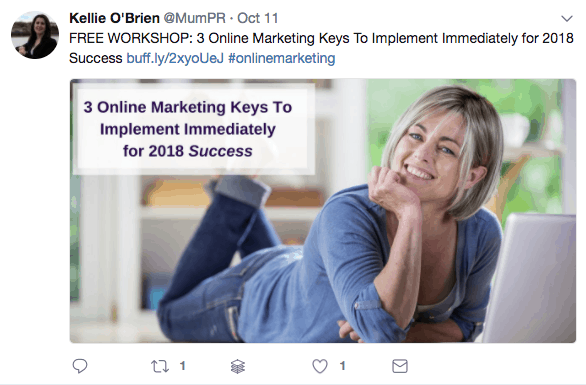 Simple, but effective.
If you're unsure how you should be using social media during a campaign for email subscribers or sales Or you haven't ever set up a content plan before, this is something we go deep into during next year's mastermind to ensure you're being strategic with your content and providing a balance of value-adding and sales.
As far as this section of Visme, there are a few things that stand out from Canva, including the ability to crop images within your design.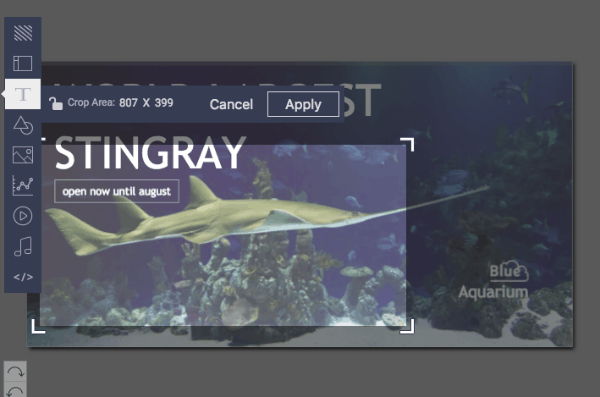 Being able to hide, show and lock layers, making it much more like Photoshop.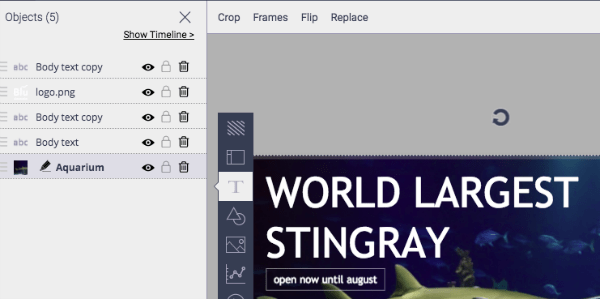 And, lastly, resizing your canvas if you realise you have the wrong dimensions. This has been particularly needed, having done many designs in the past in other tools similar to Visme and realising they were the incorrect size, only to have to start from scratch.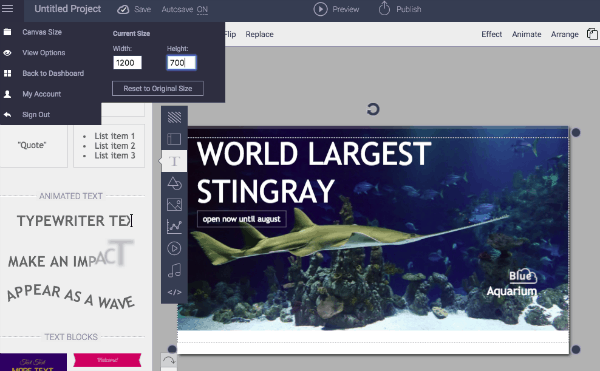 Facebook Advertising Image 
Organic traffic will only take you so far.
If you want to grow faster and re-target those who already love what you do, then you need to invest money into advertising. Facebook is still one of the most affordable forms of advertising and Visme comes with some great inspiration to get your design started.
Coming up with creative ad images that are going to stand out in the newsfeed and not have reach impacted by too much text can be challenging. 
This is one of the ads that is currently being tested on Facebook, which is a fresher look from the usual ads I run: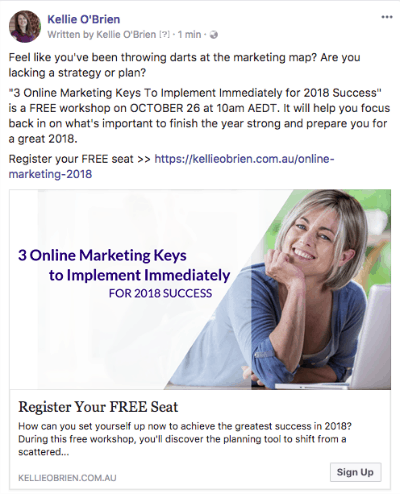 While I don't encourage you run ads with lots of blue in them, because it tends to blend into the newsfeed with Facebook's blue branding, the green within the ad does at least allow it to stand out a little.
Sidebar Website Banner 
For campaigns, I've only occasionally created banner ads for other websites. I'm fortunate to have a personal blog that still generates strong automated traffic every day from Google.
One of the motivations for creating one for The Online Marketing Mastermind was wanting to use the animation feature and clickable button – and knowing there was no coding to learn on the backend of my website.
Being seen in other areas outside your own marketing channels is important during a launch or campaign.
Here's how simple it is to create an animated banner in Visme 
Step 1: Choose a template or start from scratch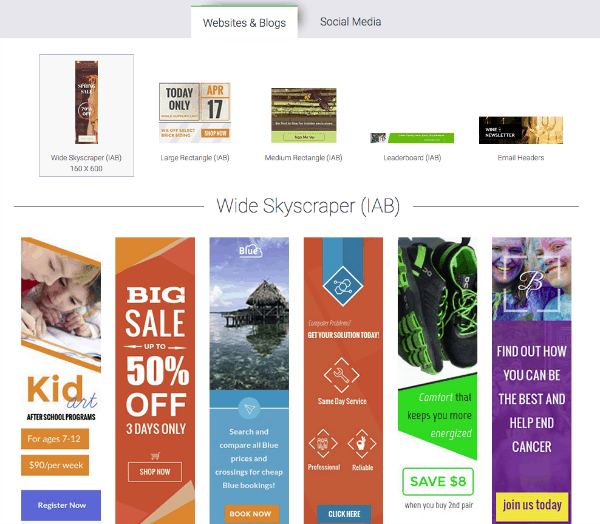 Step 2: Select your images and change current colours to your brand colours. There is a fantastic "Branding" section via the dashboard which allows you to save your branding palette for easy access.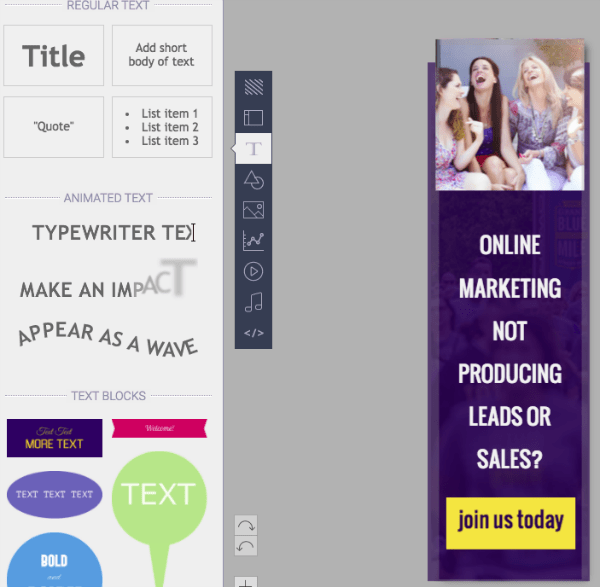 Step 3: Decide which elements are going to be automated. I decided to go with what was already automated in the template, which was fly-in text and fly-in button. Select the element, click the animation tool and choose your animation type.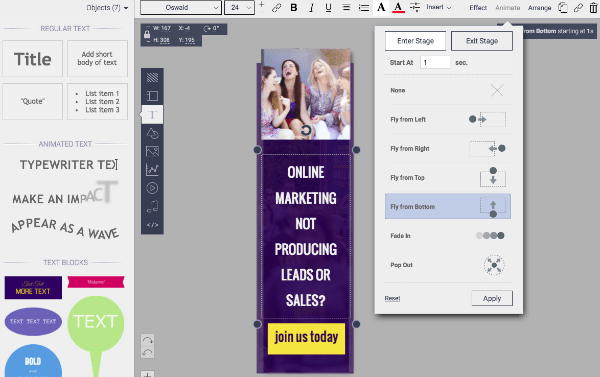 Step 4: If you have a button and want to make it clickable, click the button image and select the hyperlink tool. Add in your URL.
Step 5: Hit "publish" and grab the embed code to put in your sidebar or share with affiliates or referrers.
Here's what I created and what is now displayed on my personal blog. You may need to refresh this page to see the animation work.

Created using Visme. The Easy Visual Communication Tool.
Think beyond just sidebars and play with embedding animated banners into the bottom of blog posts with a call to action to your opt-in or latest paid offer.
Email footer banners
I'm a big advocate for putting banners in the footer of your emails. I think it's a wonderful way to draw people's attention to an action you'd like them to take.
Use the "Email Header" to instead create an advertising banner to use in the footer of your newsletters to encourage people to join your website or your program, product or service.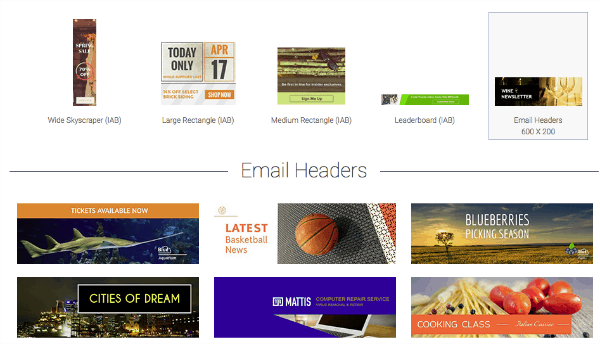 Often, I'll wrap my call to action around a story within the newsletter, but highlight that call to action again through that banner.
One of the great things about Visme is the ability to animate it and then embed it into your newsletter. The templates inspired me to think outside the box a little from what I'd created before and what I already have as inspiration in my swipe file.
Here's an example of what I did:

OPTIONAL: Infographics
I've only ever created one infographic. It was done with Powerpoint and it took hours. I vowed I'd never create one again. And then Visme came along. Infographic creation is undoubtedly one of its greatest selling points.
Whether to embed into your webinar slides, for a sales page, to share on social media or for a blog post, an infographic is a great way to take data that can be tedious to read and share visually so it's easier to digest.
The other thing about infographics is they often help persuade someone to your cause. When you can use Visme's ability to animate and create motion within the infographic, that's where you can take that data to a whole new level.
Oh, and it's ridiculously simple to create when you have templates and the ability to import your data so it creates the data graphs and charts for you.
Like this:
Created using Visme. An easy-to-use Infographic Maker.
Click on the graph to interact with it.
No tool is perfect and I'll admit this message popping up every time I want to leave a project to return the dashboard does send a shiver through me, fearing I'll lose my work. But I never do!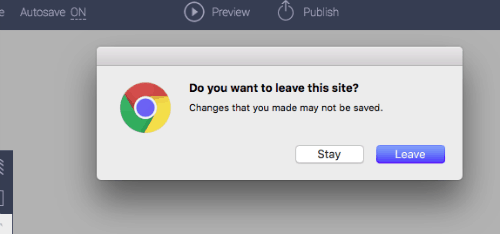 Ultimately, if you're looking for a tool that can edit your images, design across an entire campaign and allow you to animate and publish via different formats, this tool stands above many of the other tools out there right now. 
Pricing is also reasonable, with the free version allowing you up to 3 projects and 100 MB of storage. There is also limited templates and download capabilities, but is a great way to test the tool. The next level up, at $10US a month includes up to 15 projects, 250MB of storage and all premium templates and assets.
Finally, if you're working in a team, it is much easier to collaborate on projects via the team functionality, especially when they're of the size I'm currently working on.
If you'd like to learn more about Visme you can do so here or to learn more about the launch be sure to register your seat for the 3 Online Marketing Keys To Implement Immediately For 2018 Success free workshop.
Here's a little something to leave you with: