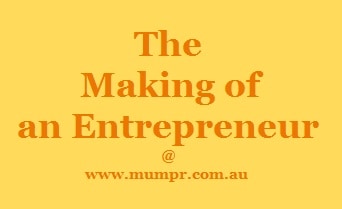 Through Mum PR, I've had the opportunity to work with the most inspiring women entrepreneurs and learn from them. Rather than keeping them all to myself, I thought I'd start The Making of An Entrepreneur series to help inspire others in business or aspiring to those just starting out.
I must also give credit to the lovely Val from Inner-B for this fabulous idea too.
If you would love to be part of this and share your story, simply contact us and we'll send you through the questions.
You're more than welcome to share this with others in business who you think have an inspiring story to tell.
Tweet:
Would you like to be featured in the new The Making of an Entrepreneur series by @KellieOBrienAU on @MumPR? Find out more here: https://kellieobrien.com.au/2012/03/would-you-like-to-be-featured-in-the-making-of-an-entrepreneur-series/
Facebook:
Do you have an inspiring story behind your business that others would benefit from hearing? Make sure you're part of The Making of an Entrepreneur series at @Mum PR. https://bit.ly/GzzpCP
Pinterest:
The series will feature every Friday on the Mum PR website, which is viewed by the media and journalists – so a great PR opportunity.
What's your business? Leave a link below so we can learn more about you.