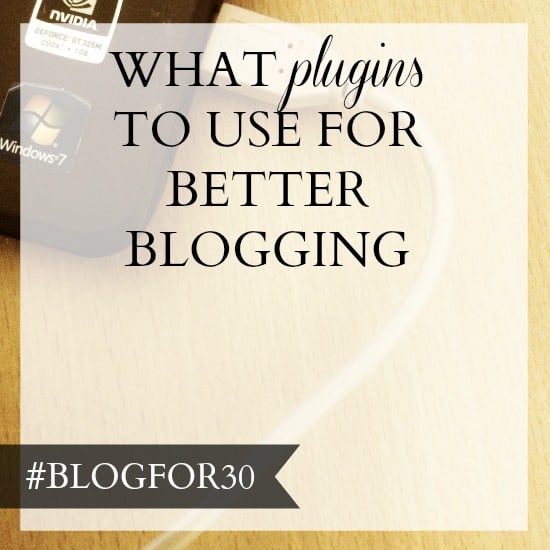 What are plugins, you ask? A plugin on a WordPress site enhances the functionality of your site for yourself and readers. During Monday's Mum Blogging Masterclass, someone asked whether the plugins were free. Yes, most of them are. Many plugin developers ask for a donation, but it's entirely up to you whether you give one.
So, how do you access them? Head to Plugins on the sidebar of your WordPress blog Dashboard and click on Add New.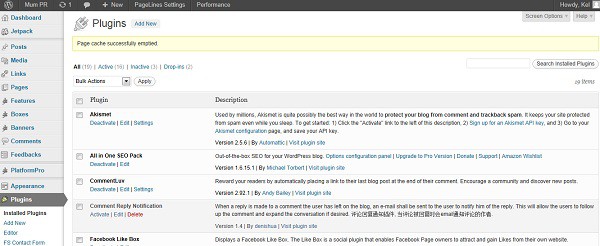 Here are some plugins I'd suggest you might like to add:
Akismet:
It's one of the best ways to protect your blog from comment and trackback spam. A word of caution though, sometimes it sends non-spam comments to the spam folder, so it pays to keep an eye on this.
All in One SEO pack:
I give this plugin much of the credit for helping me make the front page of Google for some of my keywords. With a little help from some SEO basics too.
BackUpWordPress:
This will do automated backups of your WordPress site. Simple, but effective.
Beaver Builder
Used as a theme or plugin, this is a drag and drop page builder. And one I love. Due to SEO reasons, I wasn't keen on changing the Genesis theme I have on this website. However, I was frustrated with the lack of design ability when you don't know a lot of code. This allows me to build beautiful designs, without needing to know code. Or change any of the website framework.
CommentLuv:
The purpose of this plugin is to give promotion to fellow bloggers, as their latest post will be displayed when they leave a comment on one of your posts. The spin-off from this is it encourages bloggers to return, as there's something in it for them.
Jetpack by WordPress.com
This allows you to track analytics inside the blog itself. Although, you will notice a discrepancy between Jetpack and Google Analytics. Most people still refer to their Google Analytics in general.
Magic Action Box
If you want a way to capture email addresses at the end of blog posts, this plugin creates beautiful opt-in boxes. I've written posts about it here and here.
Another option for attaining email address of your readers is through this nifty plugin. It allows for advanced pop ups, like exit pop ups, scrolling pop ups and more without the need to know any code. Super simple to use.
ReplyMe:
I'm a big advocate for responding to people when they leave comments on your blog or on social media. It's no different than being at a party. If someone spoke to you, you expect them to talk back. The same rules apply online. Blogging and social media are all about building relationships. This plugin means when you do respond to a reader's comment, they get your reply sent direct to their inbox.
Facebook Like Box:
One of the greatest ways to draw people from your blog to other channels is to have links to them. The Facebook Like Box is a great way to entice people to continue the conversation with you on social media.
Fast Secure Contact Form:
Every blogger or business person should have a Contact page to allow readers, PRs, brands, customers and others to contact you easily. Along with having a contact form, I also think it's important to provide your direct email address on the page along with it. You can see mine to see what I mean.
Flare:
These are all the little social media icons along the top of the post that allow you and readers to share your post easily via platforms like Facebook, Twitter, Pinterest, StumbleUpon, Delicious etc. Hint hint!
W3 Total Cache:
It's regarded as among the best performance plugins. What that means is it will improve the speed and user experience of your site.
WordPress Editorial Calendar:
If you want to get organised with your blogging, then this one is a must. It will allow you to see what your blogging schedule looks like and you can easily move things around. This whole #Blogfor30 series has been helped along by using the calendar to sort which posts are going on which days.
WordPress Firewall 2:
The first time I received 50 emails from this plugin telling me there had been 50 attempts to hack my site, I shuddered. Now, having had many, many emails since, it's a quiet relief to know someone's watching my back – so to speak. I will add, you're never 100% safe, of course.
XML Sitemap Feed:
I've never really understood this plugin, but apparently it helps me with Google. That's all I really care about.
If you're looking to search around for others plugins, just take note of the user rating on the plugin. Not all plugins are safe – they can do nasty things to your site. I have a few other plugins I use, but these are the main ones.
Have you heard of any of these plugins? Are there others you would add?
FREE COURSE
Click the image below to learn how to make money from blogging in this 7-day mini course

Please note: Some links are referral links. This means if you choose to do business with them in the future, I may receive a commission. This doesn't affect how much their products cost you.