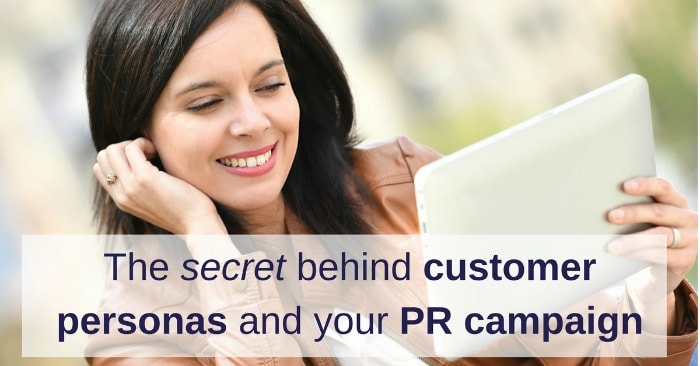 When it comes to business – not just public relations – you need to know who you're targeting. Otherwise you end up targeting everyone and hitting no one. Sound familiar?
You spend so much time crafting blog posts that no one reads, pitching media stories that never receive a reply and writing social media statuses that no one "likes" or comments on. It's at that point you start questioning: "why am I doing all this?"
How can you change all that so customers eagerly await what you're going to say next? You create a customer persona – or customer avatar – of your ideal client. It's a picture of the customer you most want to work with. What are their pain points, frustrations, dreams and desires? From a PR perspective, are they reading magazines, listening to radio, on social media, watching morning TV or reading blogs?
The more questions you can ask yourself of your ideal customer, the more successful any blog posts, media pitches and social media statuses you create will be. Finally you've got someone to "write to'' – and I can tell you, it makes a HUGE difference. Your content goes from generic to finally resonating with someone. For them, it's as if you can hear what they're thinking.
You've probably felt it yourself. You've read something and thought: "wow, did they write that just for me?"
This exercise has been part of Marie Forleo's B School and has so many benefits to gaining PR. Heck, it has benefits to your business full stop. As Marie says, few small businesses are doing this, so it enables you to stand out from your competition.
It's important for public relations because you can better understand what that customer needs, how to better communicate with them and what will make them take action.
How do you create a customer avatar?
List all the demographic and psychographic traits of your ideal customers. Include their age, marital status, income, expertise, interests, values, lifestyle, hobbies, beliefs and what media they're consuming.
If you're unclear about the needs and wants of your ideal client, visit forums, post questions on your social media channels or interview people you WANT to have as a client (scary, but worth it!).
Put all that information into building ONE ideal customer. Give her (or him) a name, an age, paint a visual picture of her. Grab an image off Google or a stock photo site if that helps you picture her better. (There's no copyright issues if you're not intending to show anyone).
Write a detailed profile of her. Step into her shoes and understand what life and business is like from her perspective. Write down all her concerns, her greatest fears about her business or life, what she worries about and her ideal or dream situation.
Put that information into a story that really helps you see things from her perspective. Kind of like a diary entry. What are the things she wouldn't say to anybody else and take note of the language and words she uses.
A customer avatar story example
Here's a short example for an organising business. The ideal avatar is 35-year-old mum, Megan:
I'm so run down. Work has been hectic and by the time I pick up the kids, get home, cook them dinner and get them into bed, I just don't have the energy to clean up the house. Everything is so disorganised, I just don't know where to start.
There's the mess in the kids bedrooms, I have no idea what's even in the pantry anymore and there's so much in the hallway cupboards, I'm scared to open them. The house is cluttered and that chaos is leading everyone to feel stressed.
If I could spend a couple of hours on the weekend and have someone show me how to organise the house better, it would take away the overwhelm. I'd be able to keep on top of things during the week and finally have a beautiful home like in the magazines.
To come home and know there's a place for everything and that it takes a mere 15 minutes to get back in order at the end of the day would be such a relief. Even to have something in place to keep the kids more motivated to clean up their own mess would be a huge help. I think they're just in overwhelm too.
My only concern is how much it's going to cost me to buy all those organisational items everyone else seems to have. And besides, I don't know the first thing about organising. I really should Google and grab some home magazines for some ideas.
Can you see how much clearer you are on what you need to do to target your ideal customer?
How to use your customer persona for PR
Write a series of blog posts about organising each section of the house without spending a fortune. Make it achievable for her, by giving her one task per week. Make use of good SEO here, so when she does Google, you're who she'll find.
Get her to sign up to your newsletter. Once she's on your site, offer her an incentive to sign up to your newsletter to gain more tips and advice. This way you can stay in constant contact with her.
Target your Facebook content directly to her, using before and after visuals. She's a mum, so chances are she's hanging out on Facebook.
Write a guest post on `Top 10 tips to easily organise your pantry' for a mum or lifestyle blog which tailors its content around organising. She mentioned she was going to Google, so this is a great way to capture her attention.
Pitch the local newspaper about an event you may want to put on targeting mums and organising or offer up Spring cleaning ideas come September. She works, so she's likely to have access to newspapers and magazines in the lunch room at work.
Pitch a magazine story idea about how to organise a child's bedroom on a budget. She dreams of a beautiful and organised house, so she's reading magazines like Real Living and Better Homes and Garden.
Can you see how writing an avatar allows you to better reach your target market and really tailor your content to help her solve her problem? There would be no use pitching morning TV, because she works during the day and wouldn't have access to watch it.
I hope this has given you some clarity on how to target your niche market in the most effective way. Forget targeting "mumpreneurs" or "stay at home mums" and zone in on that avatar.
SPECIAL INVITATION: If you're unclear on how to now attract your ideal client in a way that won't burn you out, make sure to dive into the Top 3 traffic-getting strategies for automation and scale… so you can STOP hustling free webclass!

Have you done a customer avatar?