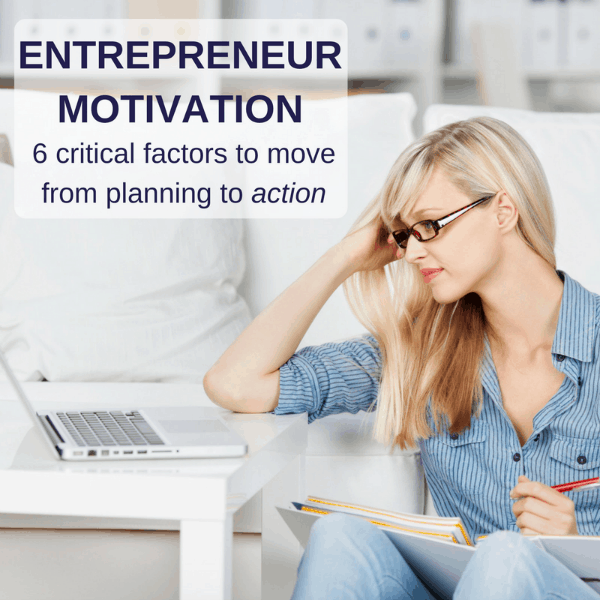 I'm sitting here, cup of tea in hand, at the end of the first week back from school holidays. Usually at this time of year it takes a while to get moving. However, using my usual entrepreneurial motivation factors, techniques and tools, I'd already launched myself into planning events with fellow local entrepreneurs, assisting corporate clients with unique projects and invitations going out for a mastermind for women who have been in business 3-5 years before the week started.
Things feel good!
How are you feeling about what you'll be achieving this year? This week on Facebook and Youtube I talked about planning and goals, but at some point you have to take ACTION. Otherwise, we end up with virtual shelves full of half started ideas, a wall calendar brimming with tasks that never get done and clients never truly understanding how it is we can help them.
I have a few strategies I use to help me move beyond PLANNING and step into ACTION. I want to share those with you today in the hope it will help YOU have your best year, because for many of us 2016 just wasn't what we hoped it would be when we stepped into January 11 months ago.
Before we dive into the actionable activities you can do to help with motivation, find out what style of motivation suits you best to allow you to remain motivated year-round in this quick, fun quiz: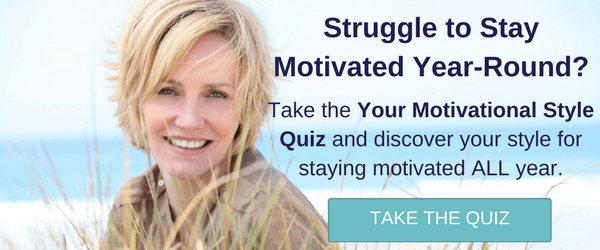 Your 6 Entrepreneurial Motivation Factors
And now, here are some action items to ensure what you do this year is purposeful and meaningful, not simply another time wasting task.
Let's begin:
Turn Your Big Picture Vision Into An Actionable Plan
Don't just make big, grand quarterly and yearly visions and plans. We can spend a lot of time doing those things. The key is to get down to the day to day tasks.
I didn't realise that having the ability to zoom out and look at the big picture vision and then zoom into the step by step actionable tasks to allow something to come to fruition was unique - but apparently I'm one of those rare people that can do both when it comes to creating digital campaigns, product launches and soulful sales funnels.
So if you lean more towards one than the other, be sure to align yourself with someone who can balance out that big picture vision or that detailed plan.
Surround Yourself With Positive Influences
The turning point for my business was when I joined a mastermind. Suddenly I was accountable to this small group of women. I stopped making stupid excuses for not doing things, because this supportive group of women would call me out. They knew. Heck, they admitted to having the exact same issues.
But that first year in a mastermind, what I achieved was phenomenal. It was my biggest income year and a real lightbulb moment that all the courses in the world won't get me to where I want to go. I already know enough. What I needed was support, accountability and some gentle guidance.
I'm not into the butt-kicking style of coaching. It's not my style as a coach and not how I tend to respond as a client either. Finding out what your style is and then aligning yourself with the right people can go a long way to helping you reach your goals in a way that lifts you up, rather than tears you down.
You Know Enough Already
I love this quote I saw on Facebook earlier in the week: I can spend money on learning, or I can spend it on doing. I plan on the latter.
We often each follow a similar path when we come into business. Firstly, we try and do it alone. Then we move into "Bright Shiny Object Syndrome" where we feel we need to buy every course under the sun because we believe we don't know enough.
Next, we invest in a coach or mastermind that allows us to move forward with accountability and support and so we can stop second guessing ourselves. Lastly, we reach a point in our businesses where we now know how it all works but also understand that there are certain areas that aren't our zone of genius so we outsource them to others to do.
Where do you sit right now? The big concern is when we sit in the Bright Shiny Object phase for too long. It's expensive and only 2% of people ever finish online courses. If I'd saved up all the money I spend on digital programs and instead invested that into a mastermind earlier, I would be a lot further along in my business.
Automate The Things You Don't Love Doing
Much of our time each day is wasted procrastinating over the things we don't want to do. The reality is, there is so much in our everyday activities we actually don't need to be doing every day.
Like posting to Facebook, attracting traffic to our website, gaining leads for our email marketing system, converting subscribers into clients….These might be tasks you think you have to do manually every day, but there are ways to schedule and/or automate these things so you can take them OFF your daily to do list and focus on the things that truly light you up. I'm guessing marketing isn't one of the things you got into business for (unless, of course, you're a marketer like me and love the stuff).
Make a list of all the tasks you do in a given week, and define which tasks you're doing daily that could have better systems around them to give you back more time. Even something as simple as bulk creating and then scheduling your social media in one afternoon can save a lot of time. The time it takes to get the energy to do a new task is where we lose time. If we do a given task in one sitting, we can achieve much more.
Tap Into Mindset Tools
I used to think mindset work, meditation, ho'oponopono, EFT, crystals… all that stuff… it was just woo woo to me. But, in understanding the different ways I often hold myself back, I now know the importance of mindset work to overcome those blocks and fears.
You only need to pick one activity. Sometimes it's as simple as reading the right book to get you motivated, to stop that little negative voice in your head and have you ready to take action. Or it's listening to the right meditation to quieten your mind and allow you to easily move into a difficult task with calm and quiet.
A friend and I were talking about the power of the mind this week. Back in my journalism days, I had no issues whatsoever walking up to the biggest celebrity at the time and then asking them all sorts of questions (sometimes personal). Because there was nothing personal in doing it. It was just a job I did.
A fellow journalist always used to tell me it wasn't her chasing after the police sirens or walking up to interview the angry politician. It was someone else. Because in "real life", she was too shy for that. Yet there she was, every day, right in the thick of the day's breaking news.
Yet, as soon as we own our own business, we take things personally. Where we could pick up the phone and call the head of a global organisation when we were working for that multinational company, as business owners we now struggle to get the courage to email the so-called internet guru of the moment or pick up the phone to a nearby business you just know you could help.
We need to find the tools and techniques to become braver in business. To help us switch from taking our businesses personally so we can do business as we would do for someone else. In the book I wrote, Shaking The Foundations, Fairbrother Constructions CEO said: "I wouldn't have taken half the risks I did if it were my own business".
Do you take everything that happens in your business personally? How do you shift out of fear and leap into brave action?
Ensure You're Regularly Celebrating
This can feel weird to many of us, because we're just not used to celebrating our successes. Take, for example, the fact that earlier in the month I discovered I've been featured on one of my idol's, entrepreneur Melanie Duncan's, website. And, until this blog post, I haven't bothered to share that with anyone. Sure, I did a little dance in my office - by myself. But I didn't shout it from the rooftops, like I really should.
Part of it stems from a post I put up on Facebook last week about people who always show their highlights reels. The majority of us then end up comparing that to our own low lights - and it makes us feel like we're not good enough.
I don't want to be one of those people that tries to tell others my life is perfect. Because it's not. But a note (more to myself than you) is that you need to have balance. You need to share the vulnerable Facebook posts amid some celebration posts too.
The act of celebrating can spur us on to greater heights or pull us out of a funk when we feel stuck.
Motivating Entrepreneurial Stories
Whether it's a blog, a book or podcast, I'd highly encourage you to follow a few entrepreneurs who are where you want to be and who also embody the style of entrepreneur you want to become. For me, it's those who take a holistic approach to business and life. It's not solely about the dollars, but about making an impact on others' lives and doing something that's fulfilling and on purpose.
Be wary of entrepreneurs who sell you programs guaranteeing a certain figure by a certain period of time. Everyone's business is different. But listen to those who are doing things in a style that resonates with you, who you can learn the good and bad lessons from, and who you may just get the opportunity to meet or work with too.
When I'm struggling to get started, I find reading the stories of others inspiring. It makes me realise what's possible and that it's not always a smooth road.
Know Your Why
When it all boils down, if you don't know why you're doing what you're doing, it can be super difficult to stay motivated. If you haven't already done some work on your why, then I highly encourage you to do so. This was a difficult one for me when I first started in business, because the truth is that I fell into a business. Someone gave me a nudge and the next thing, here I was. I never set out to start a business.
Now, I'm clear about wanting to not only create a certain type of lifestyle business for myself and my family, but also to help others create more systemised businesses to achieve more ease and leverage in their own businesses and lives.
I have huge empathy for women who are knee-deep in overwhelm and feeling burnt out from their business. Because that always flows onto other areas of their life.
What about you? What's your style and how do you go about staying on purpose, even when you get the wobblies or bright shiny object syndrome creeps in?
I've put together a short quiz to determine the best method to keep you motivated, moving forward and on purpose so you can achieve your goals this year. Of course, a combination is always good, but this will hone in on a core strategy you can use… starting today!