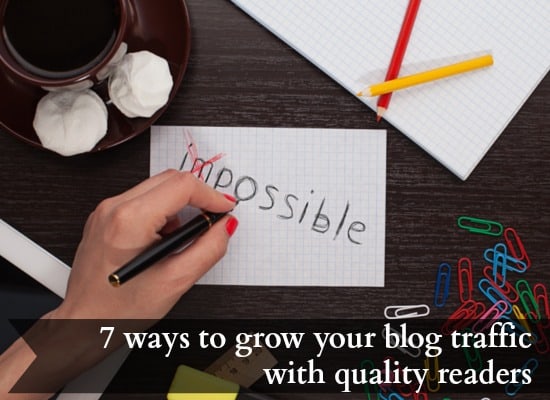 When I started out blogging, I used to spend more time in my Google Analytics than anywhere else. I would obsess over how many people had visited my site that day and exactly how I was going to get more blog traffic the next day. Can you relate?
Weekends, well, they used to cause me huge anxiety because of how low the numbers were.
I'm still interested in how my blog stats are doing, but not nearly as much as I once was. Now, I'm far more interested in quality over quantity. I've discovered that 10 quality readers is far better than 100 fly by nights.
How do I know they're quality readers? They read more than one page before they leave. They take the time to sign up to my newsletter to hear more from me. They share my posts on social media. They leave a comment on a post. They email me with direct feedback after consuming my content. And they eventually invest in my products, programs and services.
That's the sign of a quality reader for me.
If this type of traffic appeals to you, then there are certainly plenty of ways to attract those readers. If you want to hear more about attracting quality traffic for your business blog that turn into buyers, I'll have my Fearless Business Blogging product out in the next few weeks that might appeal to you. You can get on the early bird list here.
In the meantime, here are a few key things to think about to help grow your traffic.
LOOK AFTER WHAT YOU ALREADY HAVE
What? What's that got to do with growing your readers? Well, if you already have some quality readers, then you need to first look after them before they get lured in by someone else in your niche. Once they leave, your blog isn't growing – it's going backwards. Give people a reason to be loyal. Give them a reason to come back. The best way to do that is to entice them to sign up to your email list (more on this in a minute) and make sure you have quality newsletter content and teasers that get them back to your blog where you have further quality content. By capturing their email, you get to stay in contact with them and build a relationship.
MAKE SURE YOU KNOW WHO YOU'RE TARGETING
Above everything else, you need to know exactly who you're targeting. If you target everyone, you hit nobody. As I've said before, do a customer avatar for your blog. You'll be surprised at how much it helps you. Creating a customer avatar for my personal blog and also for this business was probably my biggest turning point. You start to have that one woman in your head who you write every post for, you write every Facebook status for her and you write your ebook specifically for her. The result is that you start to attract your ideal readers and they turn into raving fans because you're solving their problems for them. If you need help on creating your ideal customer avatar, don't hesitate to book an appointment. It will be one of your biggest payoffs.
SIMPLE SEO
You've heard me say this so many times, but I'm not an SEO expert, despite the fact I seem to be getting amazing results for myself and others from it. If you're using simple keywords in your blog posts that target that user, then you'll start to get found. My two favourite tools are Google Trends and Google Keyword Planner. One tip I was given that boosted my SEO was to write a series of posts (it only has to be three posts) that link to each other and use a similar keyword. So you might do a three-part blog post series on how to toilet train toddlers, for example. Here's some basic tips on SEO.
USE SOCIAL MEDIA TO YOUR ADVANTAGE
You need to leverage your content. The whole "build it and they will come" doesn't apply to blogs. Google now looks at how people are interacting with your content on social media, so make sure you're sharing your content there. The rule is to spend 20% of your time writing the post and 80% sharing it. Ensure you have share-worthy images and blog post titles. Even setting up a group of six to eight fellow business bloggers in a private Facebook group that you feel are at the same level as you and then support each other, doing social media shout outs for each other, creating a shared Pinterest board to repin each others' content, leaving comments on each others' blog posts, liking each others' Facebook statuses etc. It can really help build momentum. If you're looking for a support network, you can also join my Media Mastermind.
GIVE SOME BLOG LOVE… or is that social love?
Relationship building is a big part of business. Most of it happens on social media these days, which has sadly seen the demise of the ol' blog lovin'. Even I've become slack at leaving blog comments these days, but was prolific with it in the early days. The idea is to comment on other people's blog posts and then continue to comment on those who reciprocate with a comment on your blog. The past two years I've noticed a real shift to relationship building within Facebook groups, where you have a chance to find likeminded people, share your blog posts, add to conversations and share your expertise. In turn, in the groups I'm in at least, people check out each other's Facebook pages and blogs from those conversations. HINT: Make sure your Facebook profile  links to your Facebook page and your Facebook page links to your blog. You can sign into my Media Mastermind to see an example of how people interact in Facebook groups and share their genius.
CREATE A FREEBIE
This ties into No. 1, but you need to give people who love your message a reason to sign up to your newsletter list. If you don't already have an email marketing system set up, then Mailchimp is always a good place to start. Then make sure the sign up form is prominent on your blog. Also make sure at the end of each post people can sign up as well. But you need to give them a REASON to sign up. People already get enough emails so they don't want to sign up to your list just to clog up their email inbox even more. However, if you offer them your ebook for free in exchange for their email address, then they're more likely to do it. Although, what research has shown is the simpler the freebie offer the better. So even a simple PDF download on the 10 secrets to surviving the first year with twins or 7 surprising perks of raising twins. But a simple PDF of what those are could be a huge attraction for a new mum of twins feeling overwhelmed. Here's how to add newsletter opt-in boxes to the end of your blog posts. Once your subscribers go up, you'll see your unique views go up too.
RELEASE AN EBOOK
A little left of field for this post, but an ebook is a wonderful way to position yourself as an expert in your niche, is great at generating traffic from the likes of Amazon and social sharing, and will prompt people to want to check out more of your content once the book is finished (ie. your blog). This is something I haven't yet done, but it's on my goals for this coming year. I already have a major biography coming out later this year, so I don't have the space to get an ebook out as well. Maybe! The ebook needs to be really niched. The more niche your ebook is, the more successful it will be. I know that sounds a bit backwards, but if you target everyone, you hit nobody. Hmm… have you heard that before?
The goal of this post isn't for you to start doing EVERYTHING. Pick one thing from this list and start implementing. Once you're confident you're attracting quality readers, move onto the next thing.
It will happen. It just takes time – unfortunately!
Stay tuned, because in the next post I'm going to help you kick your business blog up a notch. Are you ready?
I'd love for you to tell me a bit about your blog in the comments. And, by all means, leave a link to your favourite post so I can hop over, have a read and leave some comment love for you.