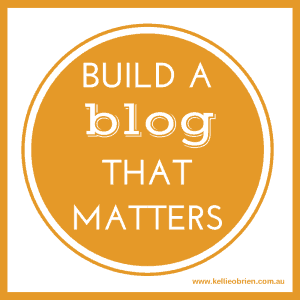 Want to build a blog that matters?
Have you ever wanted to start a blog to help your website get found or you want the blog posts you're creating to have a greater impact?
I know what it's like to spend every spare moment you have investing in creating posts, to then hear crickets. It's disheartening.
But it doesn't have to be hard. You can build a blog that gets discovered and that matters to your ideal client – and still have time to run your business.
If you're loving this article series, share it on Twitter by clicking here.
Discover How To Build A Blog That Gets Noticed By Your Ideal Client
If you have a website without a blog, then you have an online brochure. Chances are, you won't get found in Google for the keywords your ideal client uses when they need someone in your niche to solve their problem.
Google loves websites that produce new content on a regular basis. That's where blogs come in. It's why I'm so passionate about businesses adding a blog to their website.
However, those who do step into the blogosphere, often find little traffic. The reality is the old `build it and they will come' doesn't work in the blog world. In saying that, it doesn't have to be hard either.
Do you know how to build a blog and then have it get noticed? Here are my top free resources to get you started.
There are endless reasons people start blogs – personal or business. Determine why exactly you're starting a blog and what you want it to achieve. Read this.
PAID vs FREE BLOG HOSTING (BLOGGER vs WORDPRESS

Once you've determined why you're starting a blog, it will make selecting the right platform easier. Often, people get stuck moving forward with their blog because they can't choose what's right for them. Discover which is right for you.
THE BASICS OF SETTING UP A WORDPRESS BLOG

If cpanels and domain names have you running for the door, don't stress. It's not as hard as you might think. This post will help you learn the basics of setting up your own site quickly and easily.
WHAT PLUGINS TO USE FOR BETTER BLOGGING
If you want to enhance the functionality of your blog, then you need a few plugins. We've listed our favourite plugins to help make a great site even better. Discover about our favourites.
When it comes to what to blog about, the possibilities are endless. We provide some inspiration to get you started and out of bloggers block. See how many ideas you can write down in 10 minutes.
HOW TO USE KEYWORDS IN YOUR BLOG POSTS

Read exactly why you need to care about keywords. Once you get started on simple keyword strategies, you'll be hooked. Especially when you start seeing the results.
6 QUICK TIPS TO ATTRACT READERS TO YOUR BLOG

What is a blog if nobody reads it? If your blog is full of tumbleweeds rather than readers, then we've detailed six simple actions you can take to help attract more readers to your blog.
 WANT TO TAKE THE NEXT STEP? Make sure to join me in Fearless Business Blogging to make your blog the engine room that fuels your business.